Looking for volunteers to help run the NorthStar League Championship Track Meet on Thursday, May 26! We need help with concessions and field events! Please contact Joy Bullis
bullisj@alconaschools.com
Alcona Track faired very well today at their Regional Competition in Inland Lakes. Six athletes earned places at the state meet. Congrats to Kelsey Hansen, Gavin Walker, Garrett Somers, William Liebler, Jeremiah Bullis, and Hayden Johnston. And a 2nd place finish for the boys!
Students in grades 5th-12th for the upcoming school year are invited to attend the Alcona Tigers Basketball Camp June 13-16. Registration forms are due by June 3rd. A PDF registration form is available at: bit.ly/3LyqbIQ #GoTigers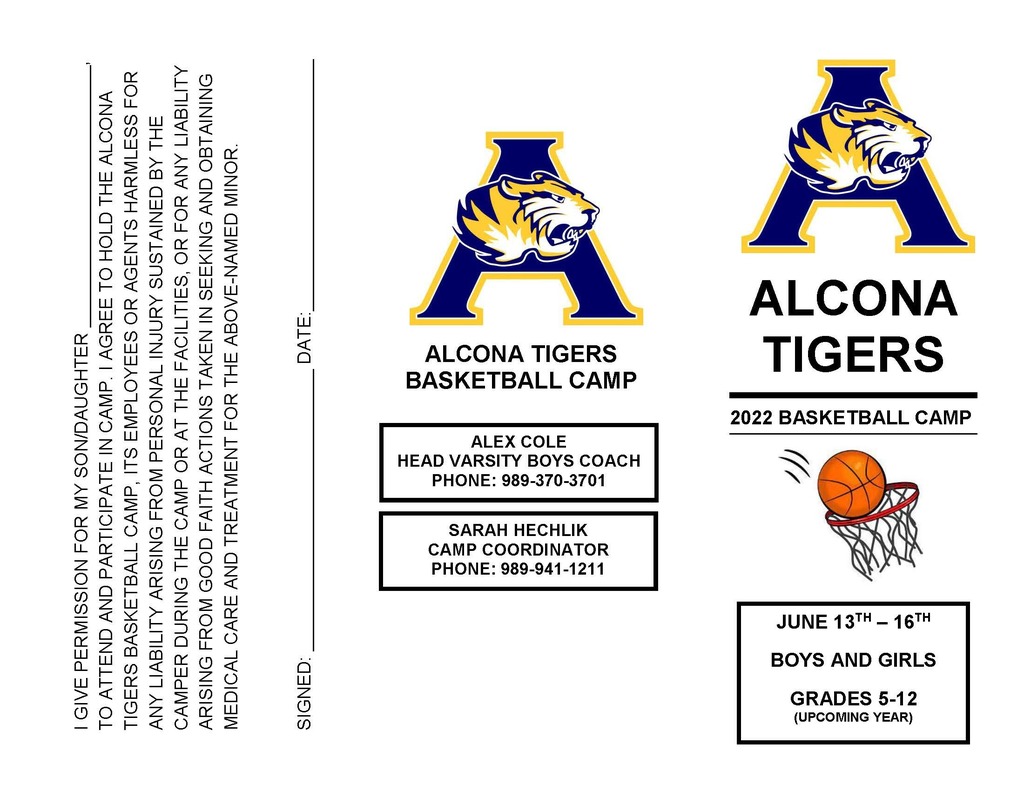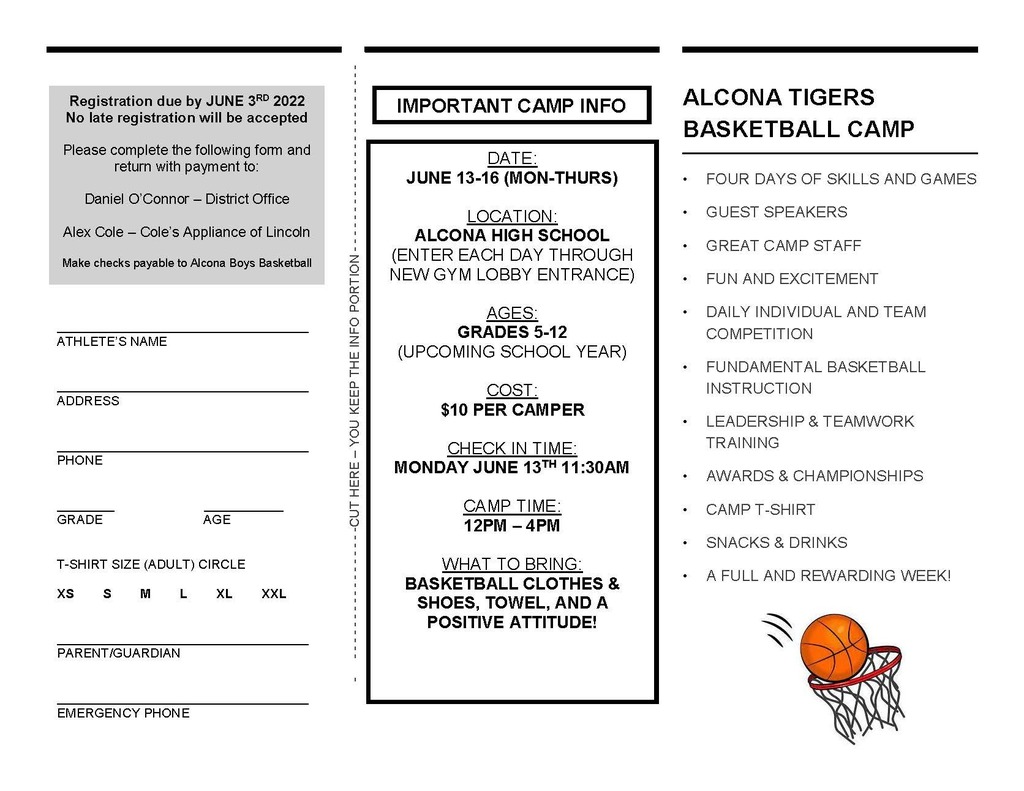 Putting the CHALLENGE out there..... How many laps do you think you can walk/run in 6 hours? The Walk-a-thon will have a prize for the person with the most laps:) Make sure to get your pledges wrapped up! We have 12 days to go! June 1, 9am-3pm Meet you on the Track!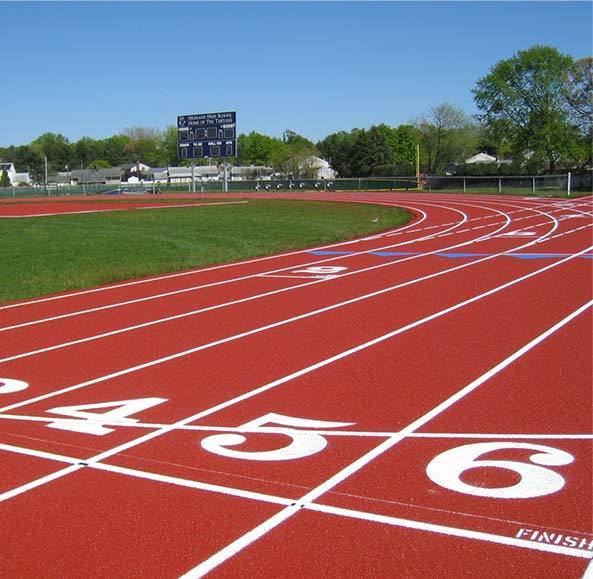 Reminder Seniors: tomorrow is our senior self-defense day. Wear comfortable clothing! Lunch will be provided by AAACU and afterwards Stacy Hall will be giving a brief presentation about additional services that are open to you as adults. Make sure you go through your SENIOR checkout list! If there are questions or issues, I can address them after the AAACU presentation.
Keep supporting your athletes as everyone prepares to hit their end-of-season goals! Go Tigers!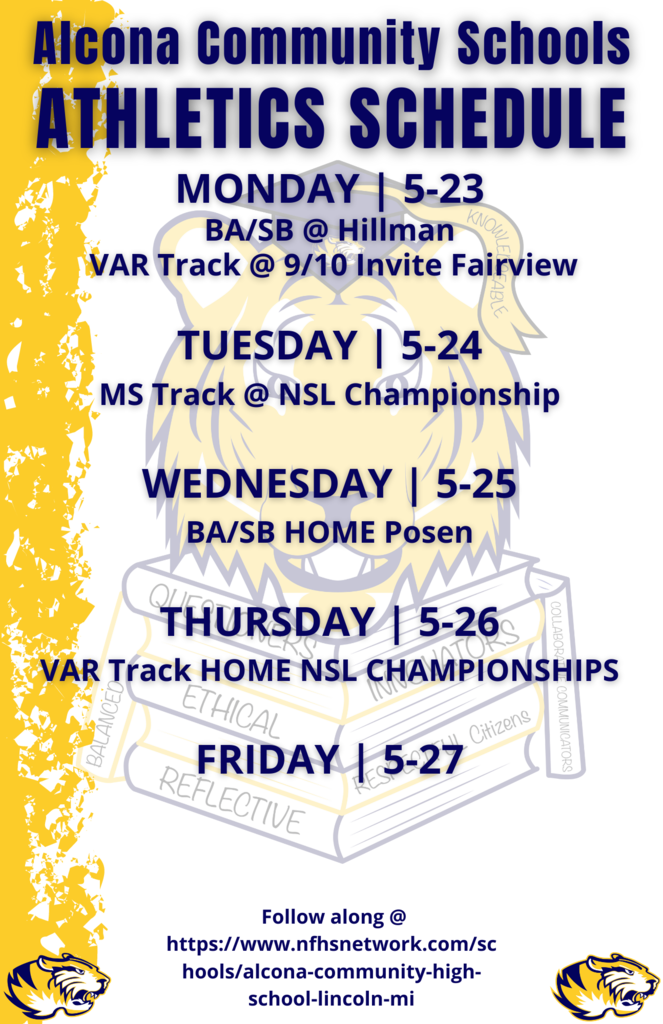 Don't forget to remind your veteran family members, friends and neighbors about the National Honor Society's Coffee for Veterans event THIS SUNDAY, May 22nd from 2-4pm in the auditorium lobby.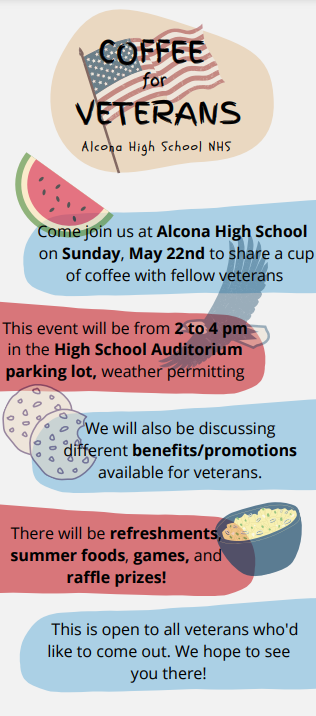 Current middle school students are invited to a movie night on June 3rd! The cost is $2 each. Note there are no concessions, so students should only bring $2 total. Get picked up at 5:15pm outside of the auditorium. This event is sponsored by the Alcona Junior Honor Society.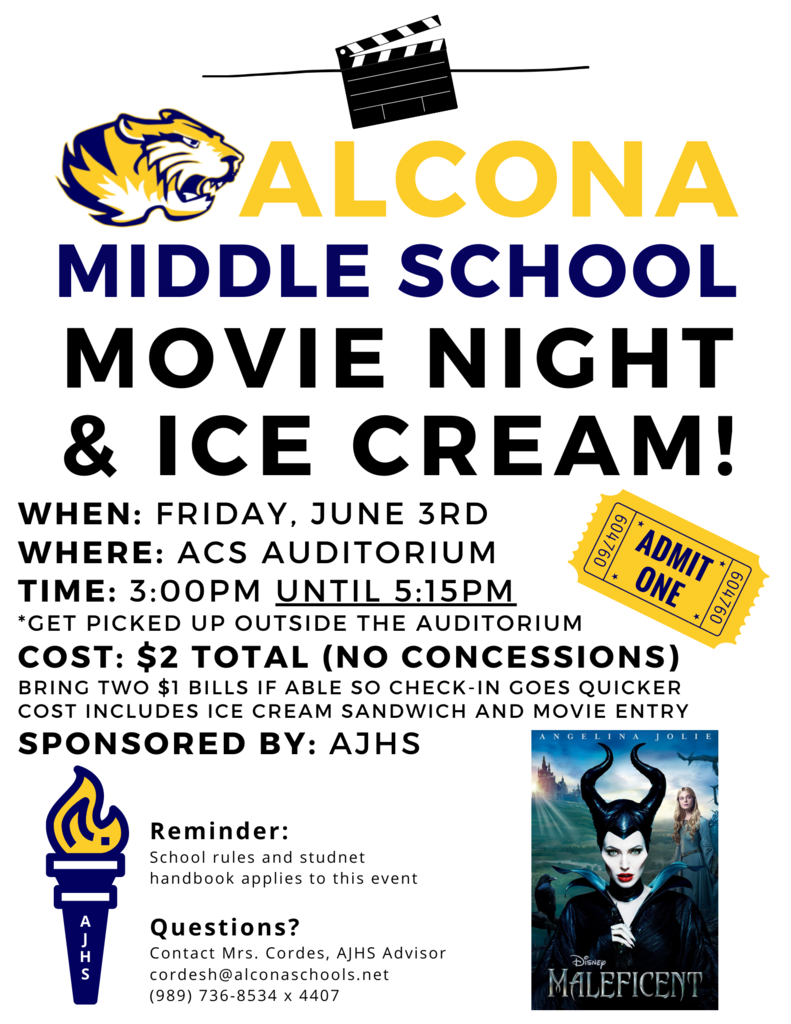 Congratulations to the MS Track athletes for a great meet tonight at the Jo-Burg Invite! Extra honors go to the boys team for bringing home some hardware for our school. They took 1st place honors with only 9 athletes tonight! Amazing job fellas!! Go Tigers!!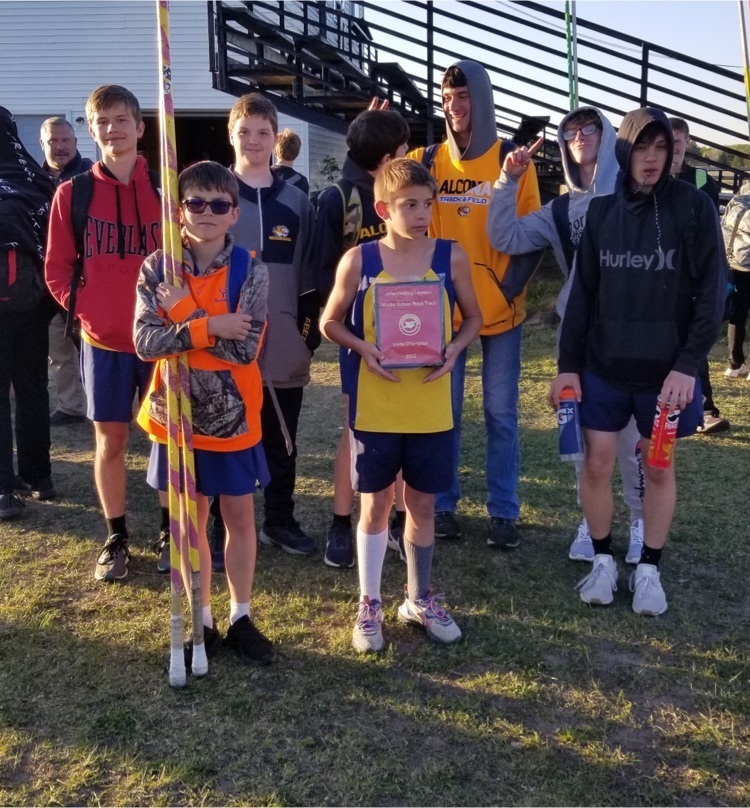 Alcona 3rd grade students wrapped up their year long Sturgeon in the Classroom project with the release of their Lake Sturgeon (Spike),visiting with the biologists in the Black River and a tour of the sturgeon hatchery. Thanks to all our partners: Michigan State University, Michigan Sea Grant, MiDNR, Little Traverse Bay Band of Odawa Indians and Sturgeon for Tomorrow.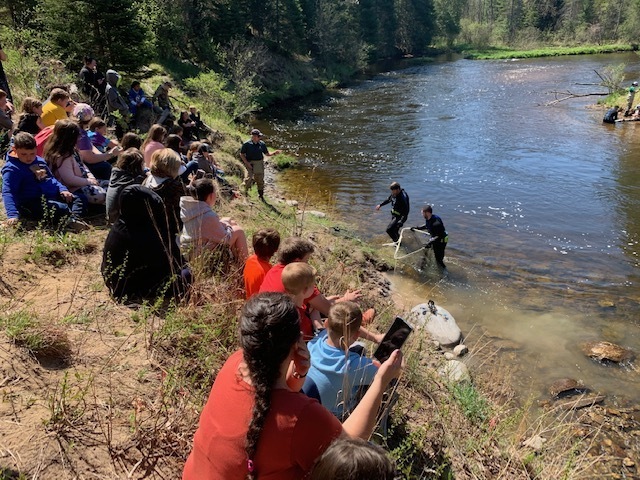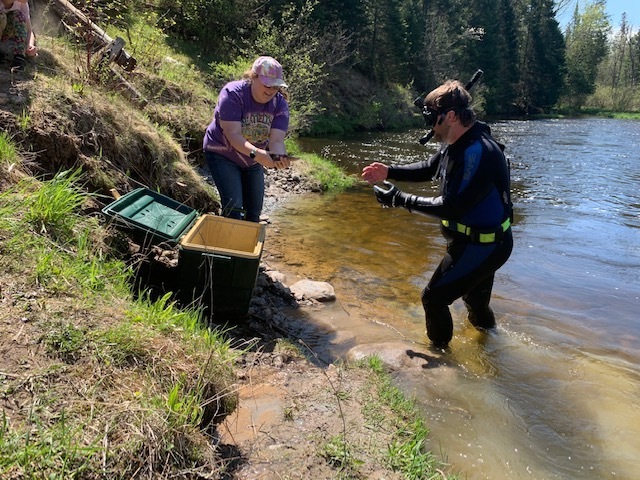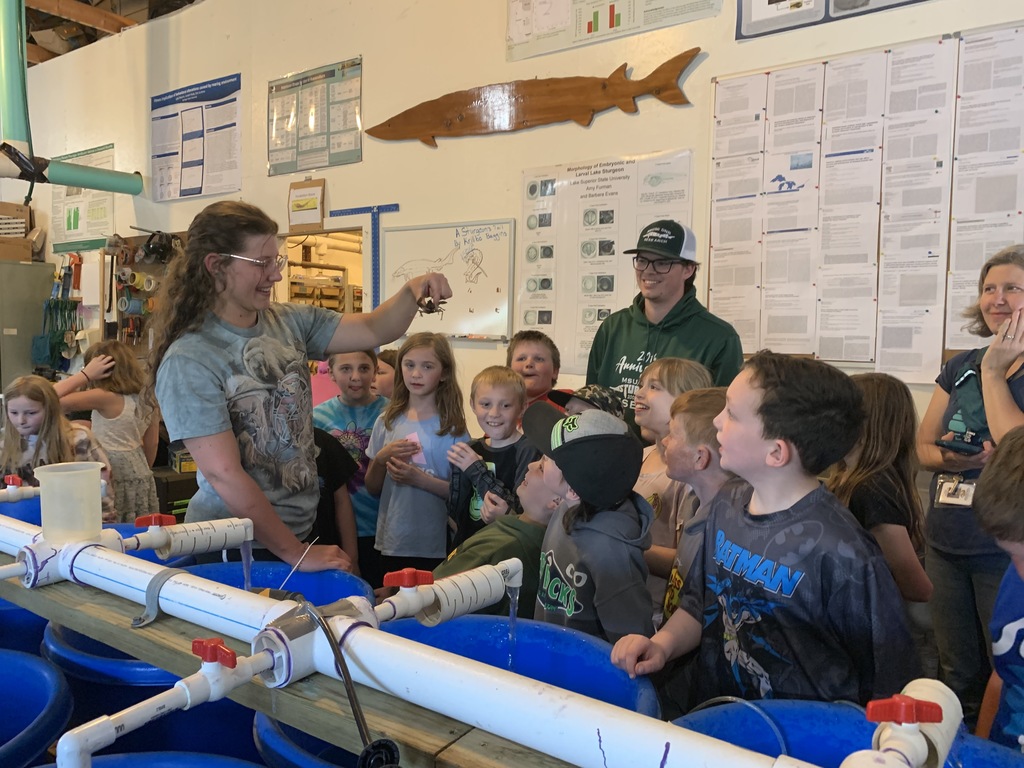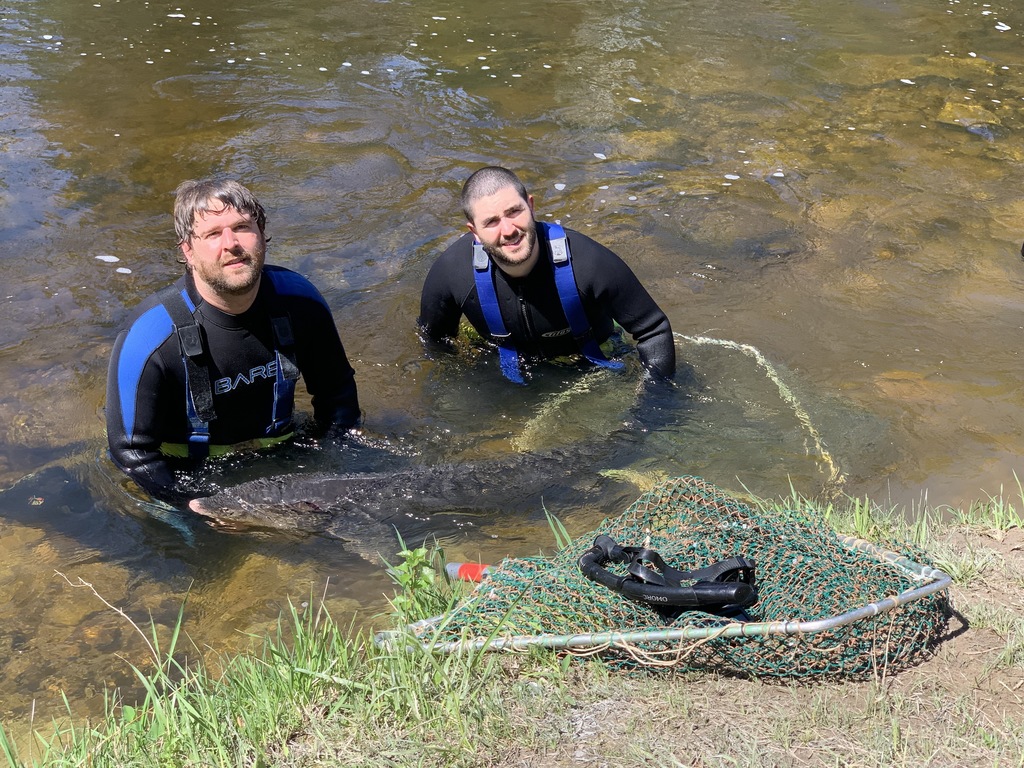 Men's and Women's VARSITY Track Meet is cancelled today!
Alcona Middle/High School will have a presentation for students of the program "Do it For Daniel" on Monday, May 16 at 12:30 pm. The presentation deals with suicide awareness and prevention. The same presentation will also take place for the community on Sunday, May 15 at 4 pm. Parents are strongly encouraged to attend the community presentation. If a parent would like more information or would like to opt out of the presentation for their student, please email Ms. Thomas at
thomasc@alconaschools.net
by Monday, May 16 at 9 am. This program is sponsored by the Dana Marie Suicide Awareness Organization.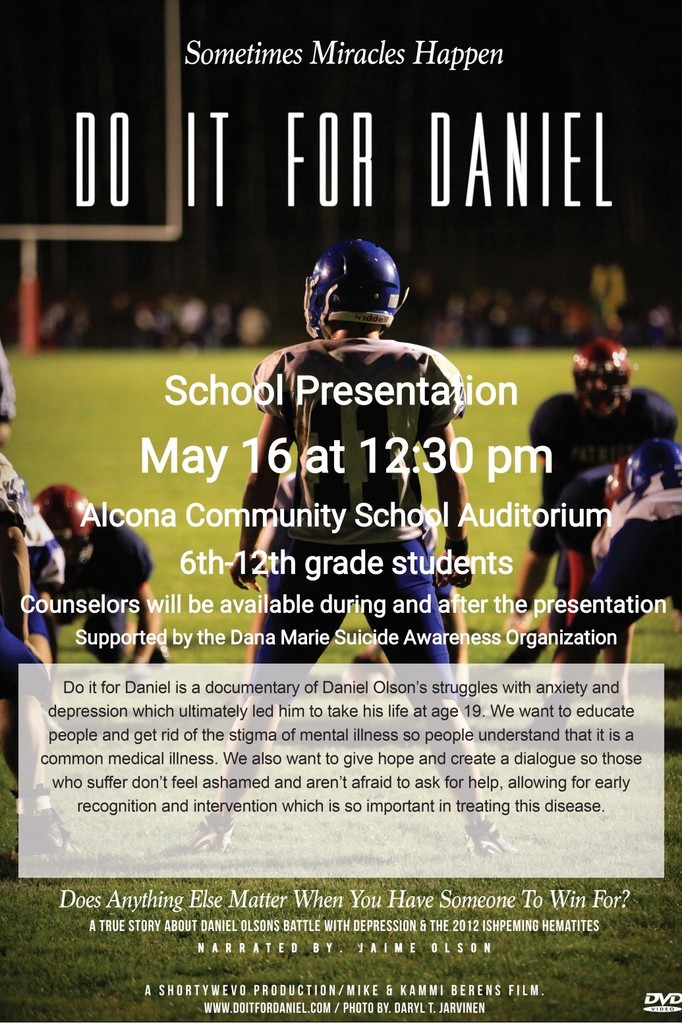 TODAY: Alcona Community Schools will host a special community presentation of "Do it For Daniel" on Sunday, May 15 at 4 pm in the auditorium. The presentation is sponsored by the Dana Marie Suicide Awareness Organization. All community members are welcome to attend. There will be no cost.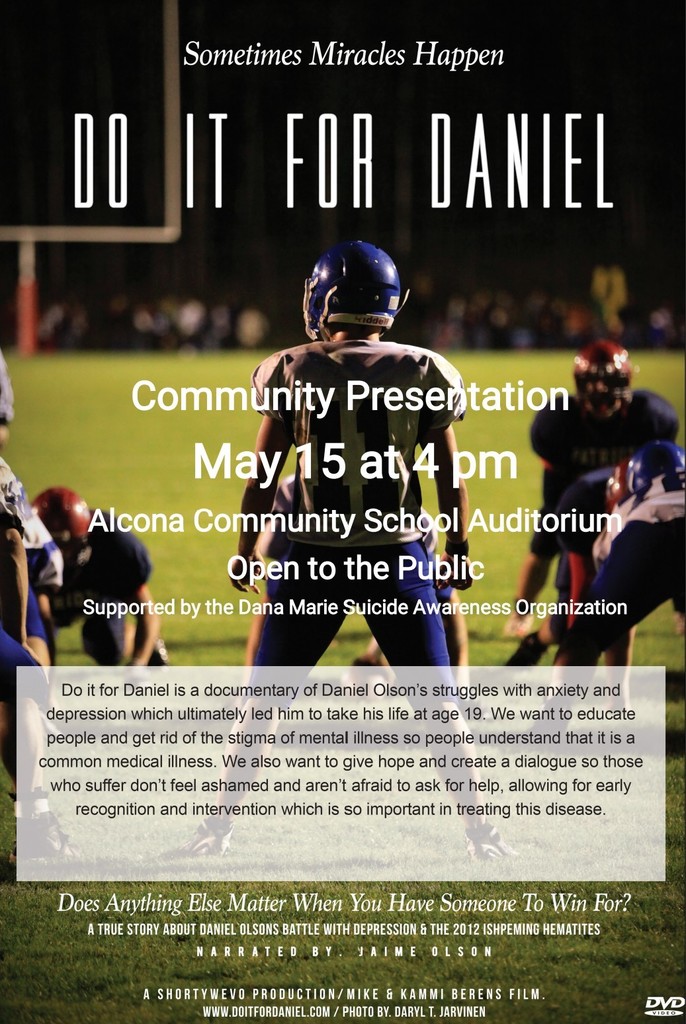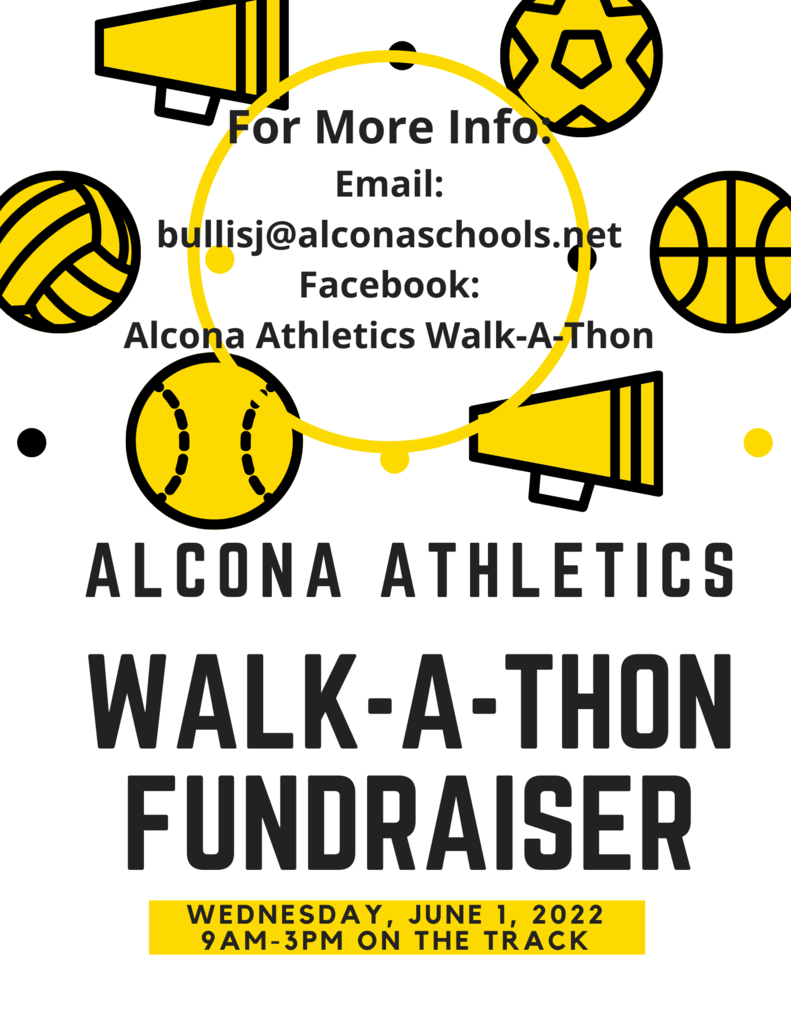 We would like to wish a special congratulations to Kalynne Smith and Kaitlyn Gleason, 5th year students in our Early College Program. This semester they both graduated from ACC with an Associates Degree in Criminal Justice Pre-Service. This evening Kalynne had the distinguished honor of being our 1st Early College student to walk in the commencement ceremony at ACC. She will be graduating from Alcona High School on May 27th and attending LSSU in the fall to study Criminalistics. Kaitlyn plans pursue a career in policing. Congratulations, college graduates!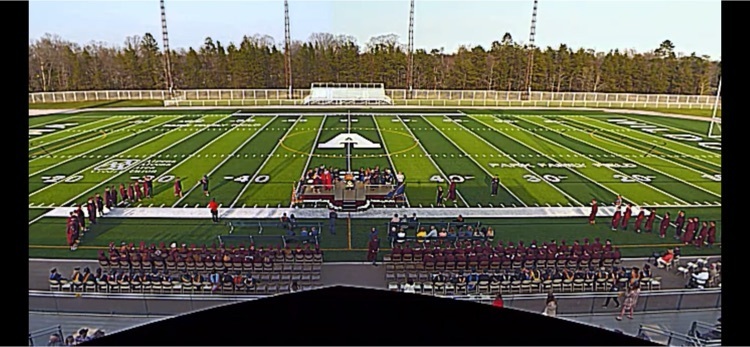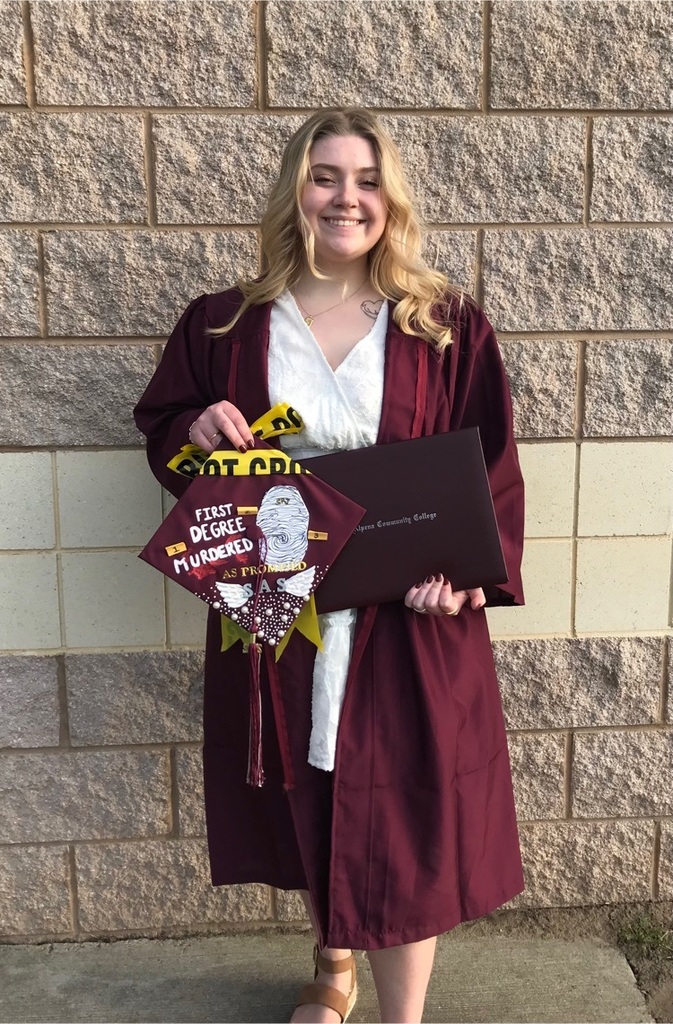 Spring Sports are starting to wind down and fine-tune for Post Season Events! Now is our time to shine! Go Tigers!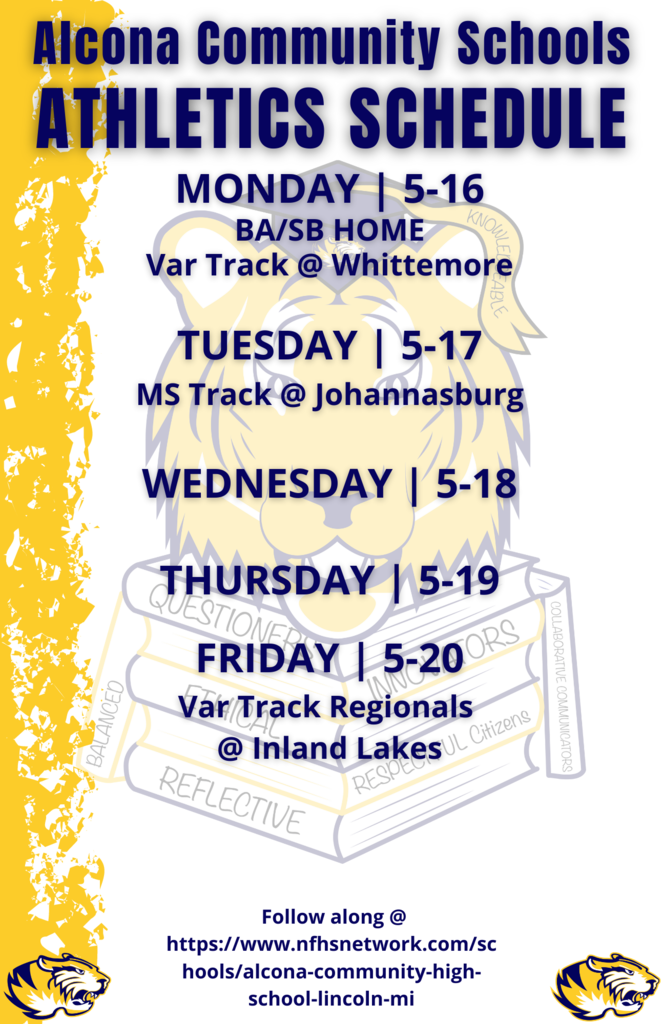 Congratulations to both, the male and female middle school track squads for their runner up finishes at tonight's Whittemore Invitational! Keep up the great work!!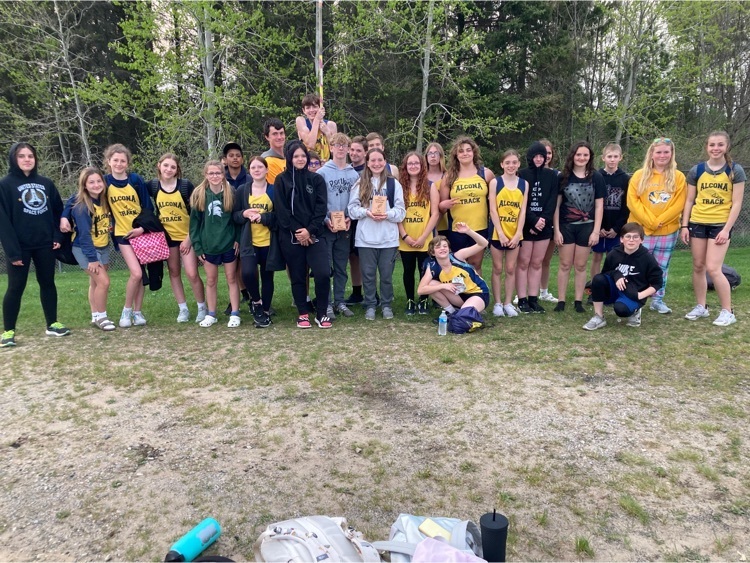 Congratulations to the Class of 2022! This evening at our Senior Awards Night 37 organizations presented 78 scholarships to our seniors, with a total of $153,340 awarded for continuing education and career readiness. Thank you to our generous community for making this possible!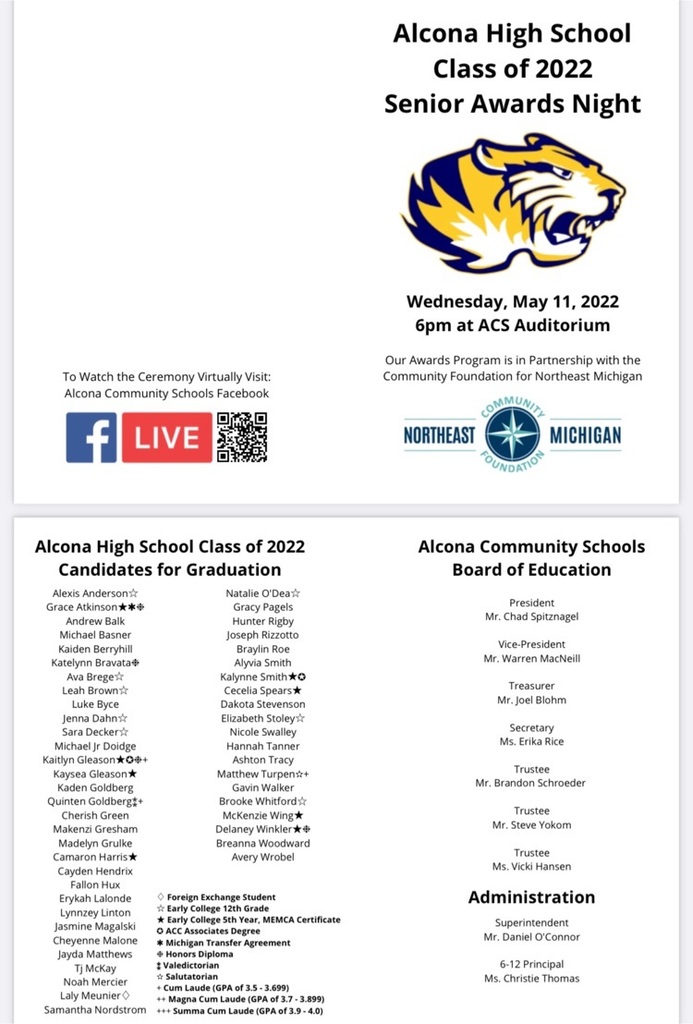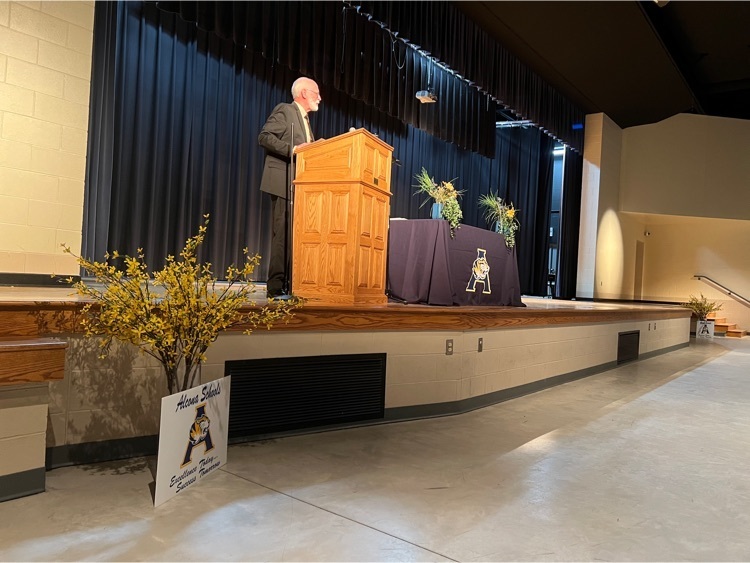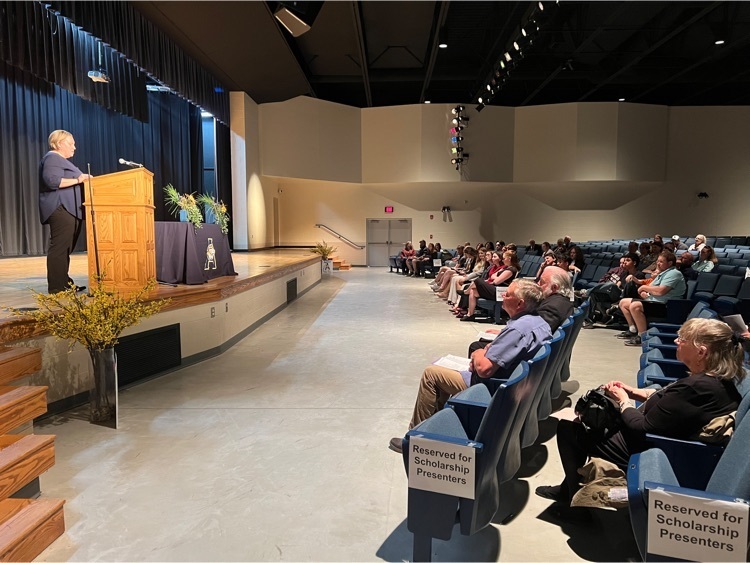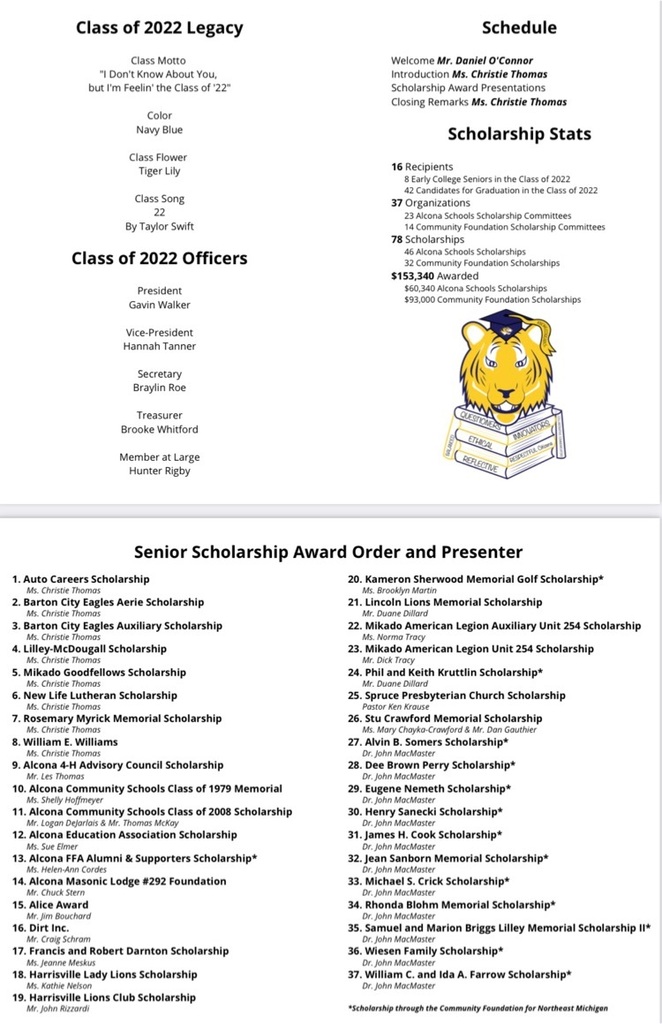 Check out this great opportunity available to all for free! This is not an Alcona Schools sponsored event.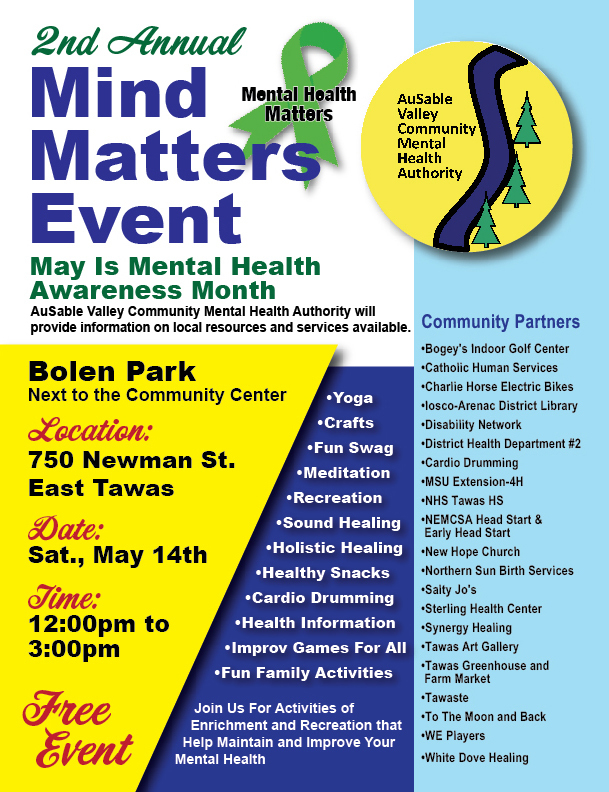 As Michigan students return to school for a new year, access to affordable and reliable internet access is vital for their success. The Michigan Department of Education recently shared information about the emergency broadband benefit (EBB) program; which allows eligible households to enroll in an EBB discount of up to $50 per month towards broadband service. Eligible households can also receive a one-time discount of up to $100 to purchase a laptop, desktop computer, or tablet from participating providers if they contribute more than $10 and less than $50 towards the purchase price. For more information see the MDE memorandum at bit.ly/9-16-21MDE or to apply visit
https://getemergencybroadband.org/