Reminder for students planning to apply for the Early College program: your applications are due by April 30th to Mrs. VK. If you have questions, don't hesitate to ask!
For today's #ThrowbackThursday we are highlighting the 1984-85 yearbook! Shout out to the Fall Homecoming and 7th Grade Girls Basketball. #TBT #TigerPride #GoTigers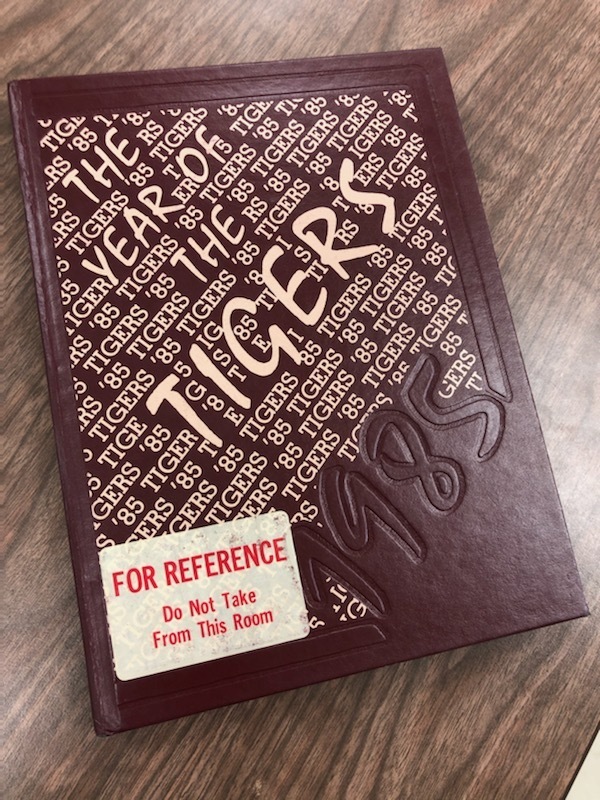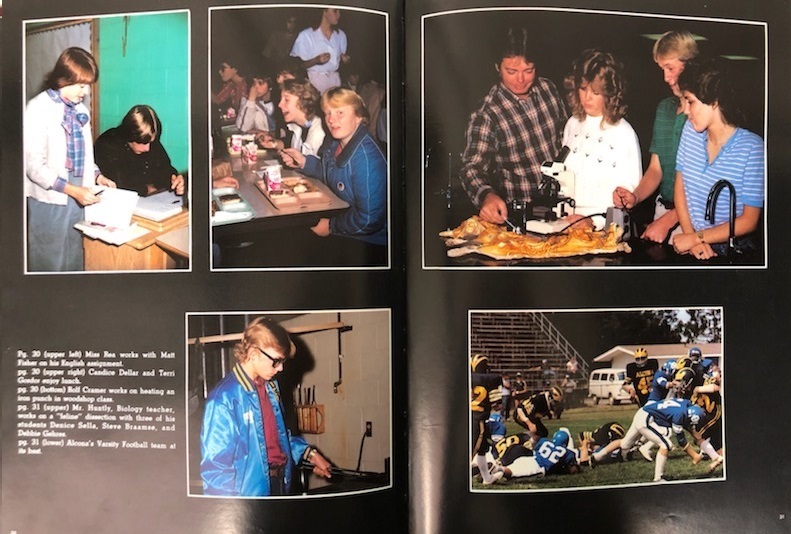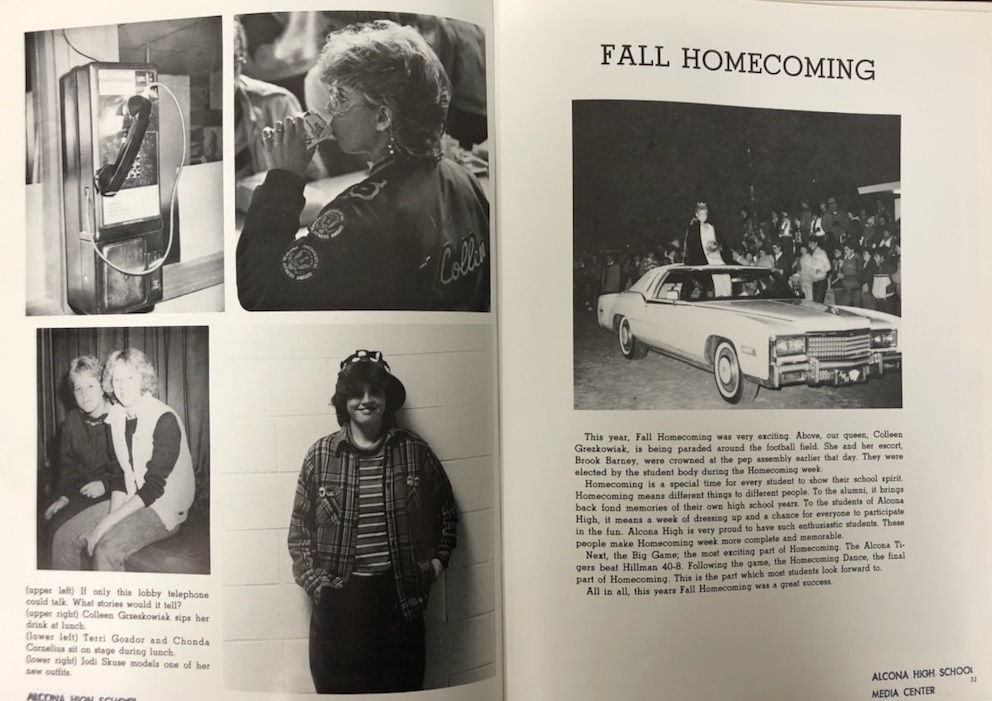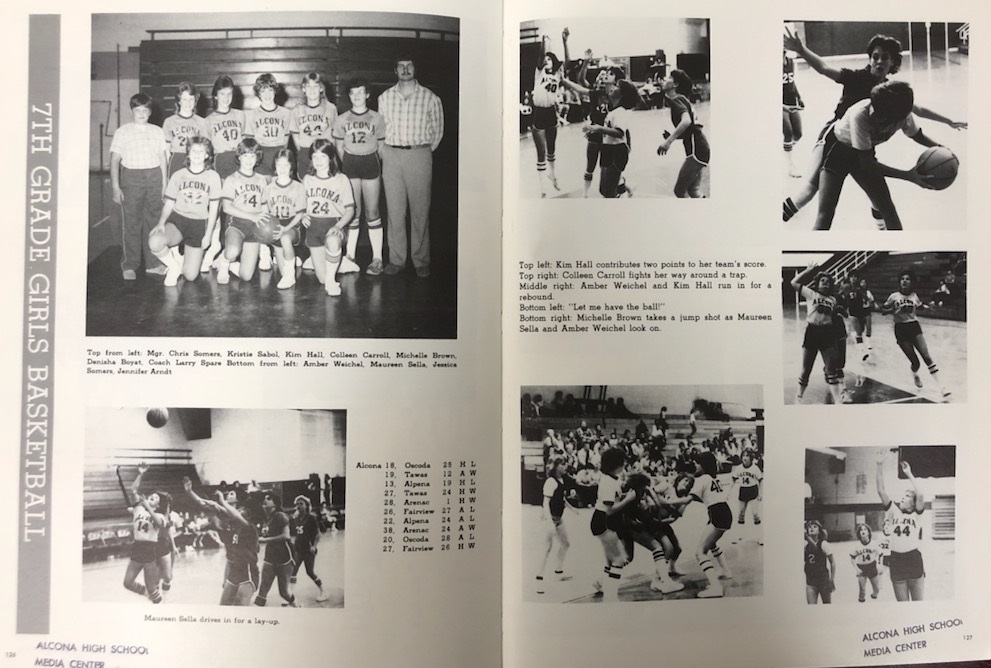 Alcona Community Schools are working with Alcona Health Center on gauging interest in vaccination opportunities for students 16 and older. Please complete the survey at the link below if interested so AHC can estimate the order needed for students. Additional information will be sent out soon with information on how to sign your children up for an appointment.
https://forms.gle/5EE1JEhRQ2cvDd6t7
ACS families are invited to join Mr. O'Connor for a district update via Facebook Live tomorrow evening. Updates Include: Remote Learning, COVID-19, and Athlete Testing.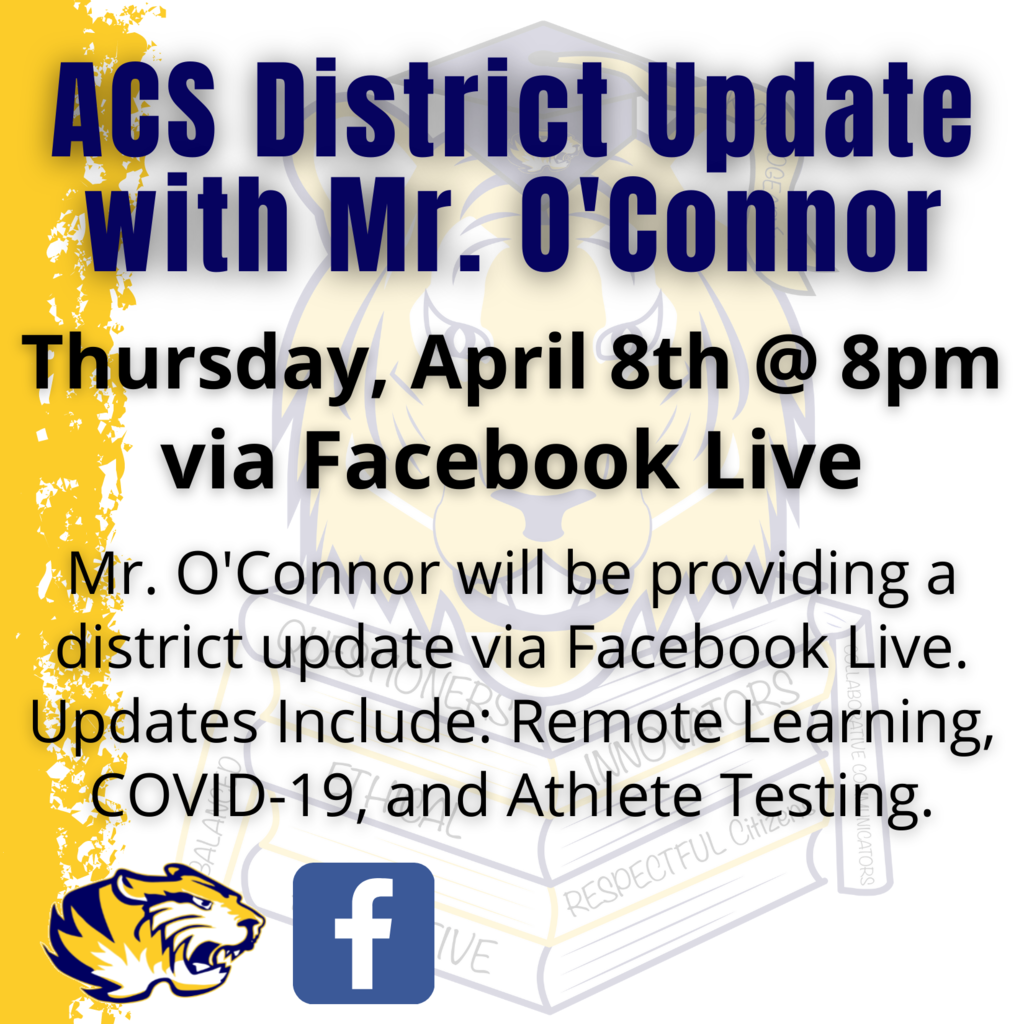 Students enrolled in a college class may still come to the building for their college classes this week and next week, however, there will be no bussing. Your professors know that they have the ability to have face to face classes on our campus if that is your current location. Since there is no state testing next week (postponed until a later date) some professors may choose to change their remote plans to face to face or synchronous classes. Please check your ACC email for instructions from your professors.


Due to continued postive cases of COVID-19 and quarantines, Alcona Community Schools will transition to remote learning starting April 8th. Students will learn asychrnonously on the 8th and 9th and begin full scale online remote learning on April 12th. The district will welcome students back face to face on April 19th.

Please see the attached photos that has information regarding tomorrow's community town hall on COVID-19 and vaccines.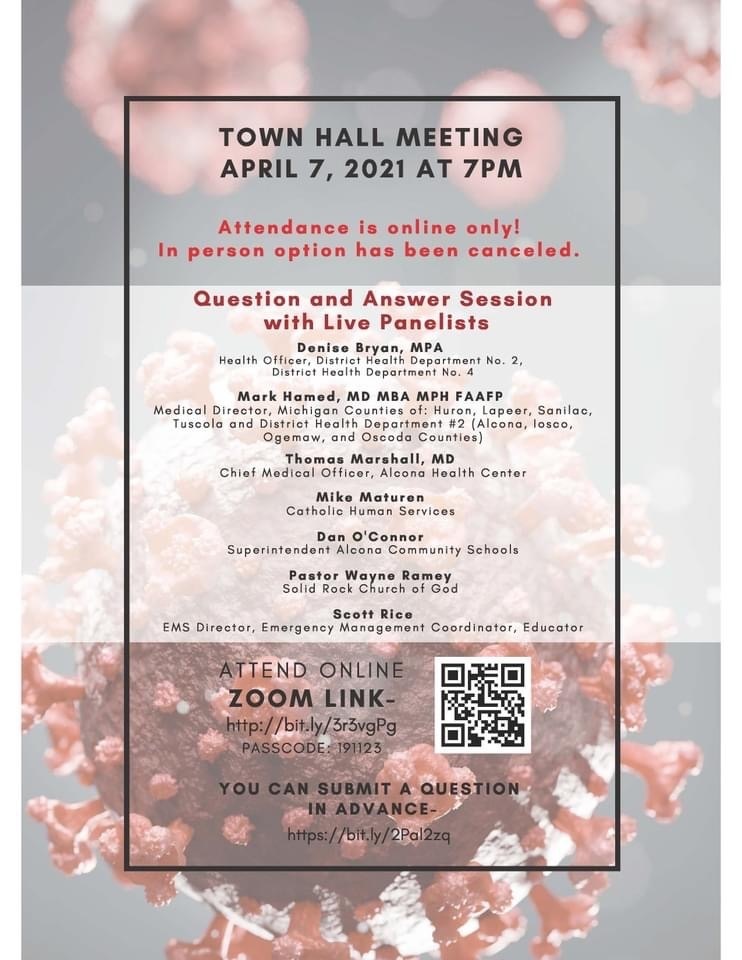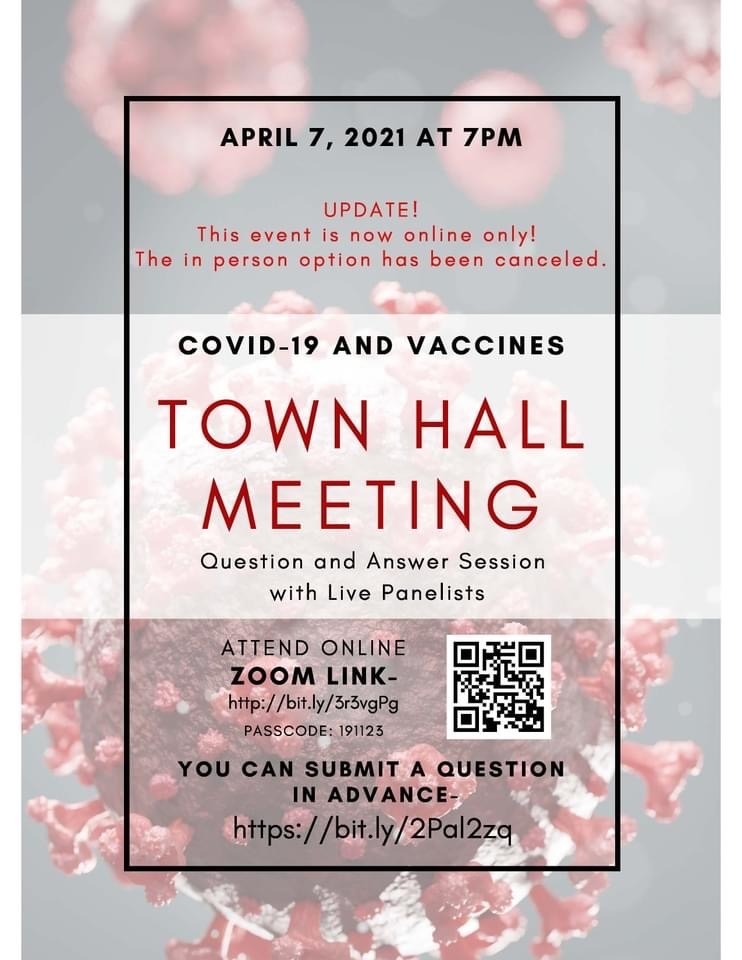 Alcona baseball is just around the corner! Show your school pride with our Alcona Baseball Hat. This classic cotton structured hat with an embroidered Alcona "A" is a great choice and will quickly become your daily favorite. Limited amount available, so don't wait! Only $29!
https://alconatigerden.com/products/alcona-baseball-adjustable-hat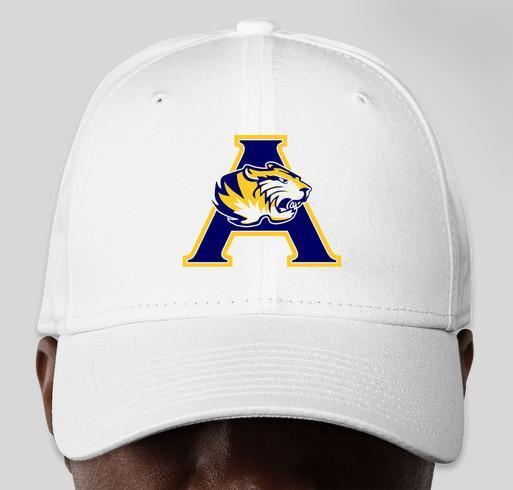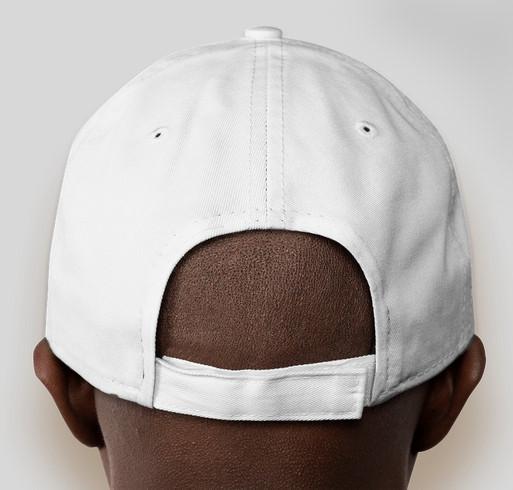 Congratulations to Junnan, Katelyn, and Carmen on being named students of the week! Students are nominated by school staff and selected based on their dedication and commitment to the eight traits of an Alcona graduate. #AlconaPride #TigerTuesday #StudentoftheWeek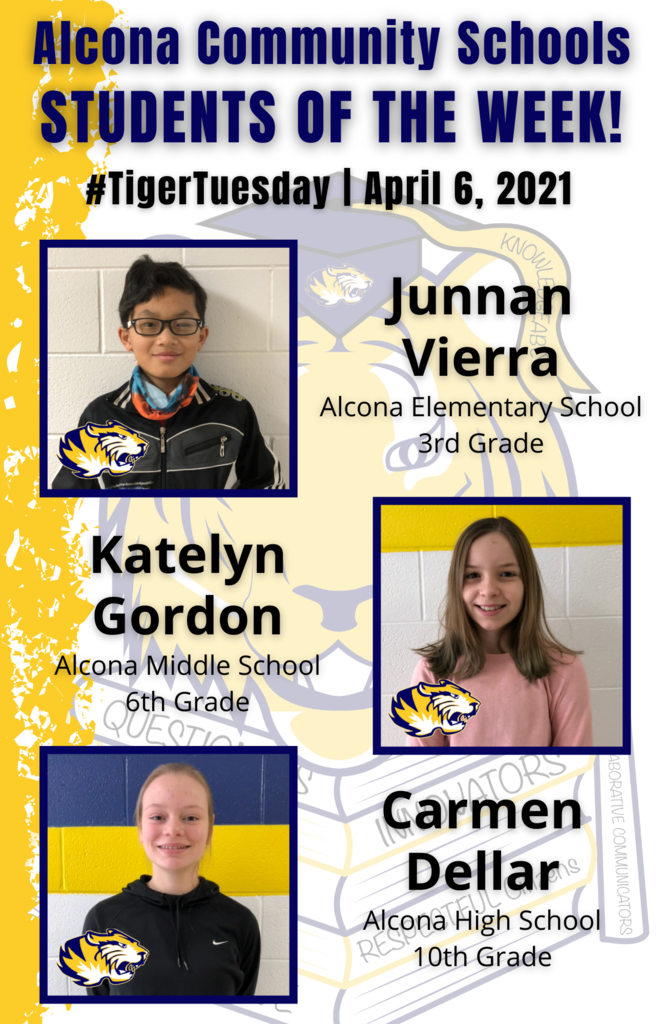 Our online student meal "GRAB & GO" from 4pm-6pm in the Middle School parking lot will be starting soon! Please do not exit your vehicle. Open your trunk and staff will place meals inside.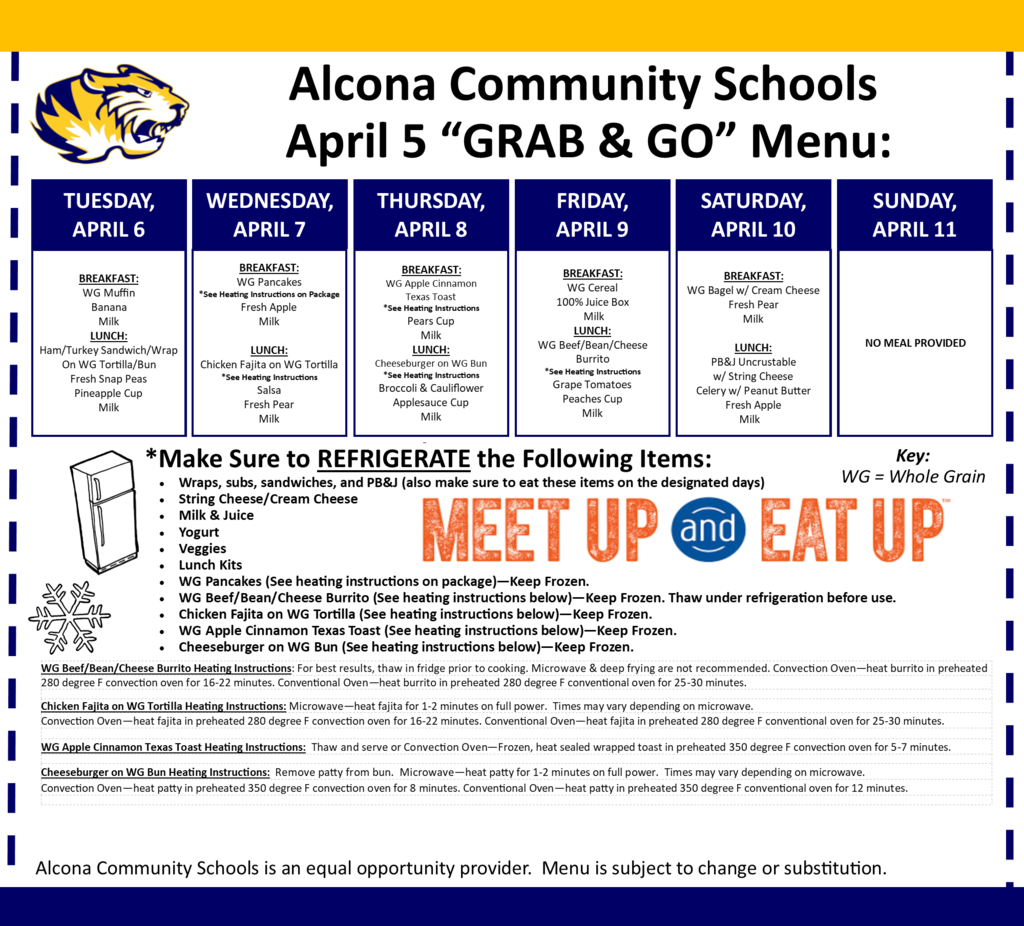 Know of any jobs or volunteering opportunities in Alcona County? Please send flyers and information to Mrs. Cordes to display for our students and share with them via email. Send postings to:
cordesh@alconaschools.net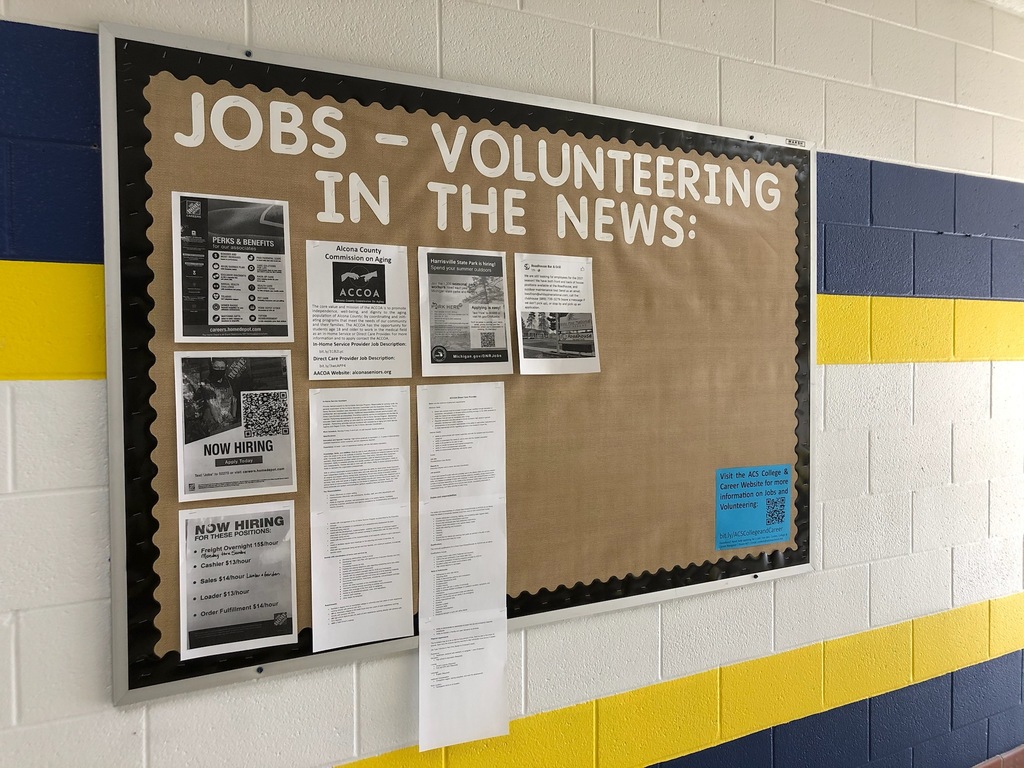 Attention Alcona Elementary 4th and 5th grade families! If you are interested in your child participating in a Ukulele or After School Art program in collaboration with Inspiration Alcona, please see the attached flyers! These programs have limited attendance, so call 989-736-8146 to sign up.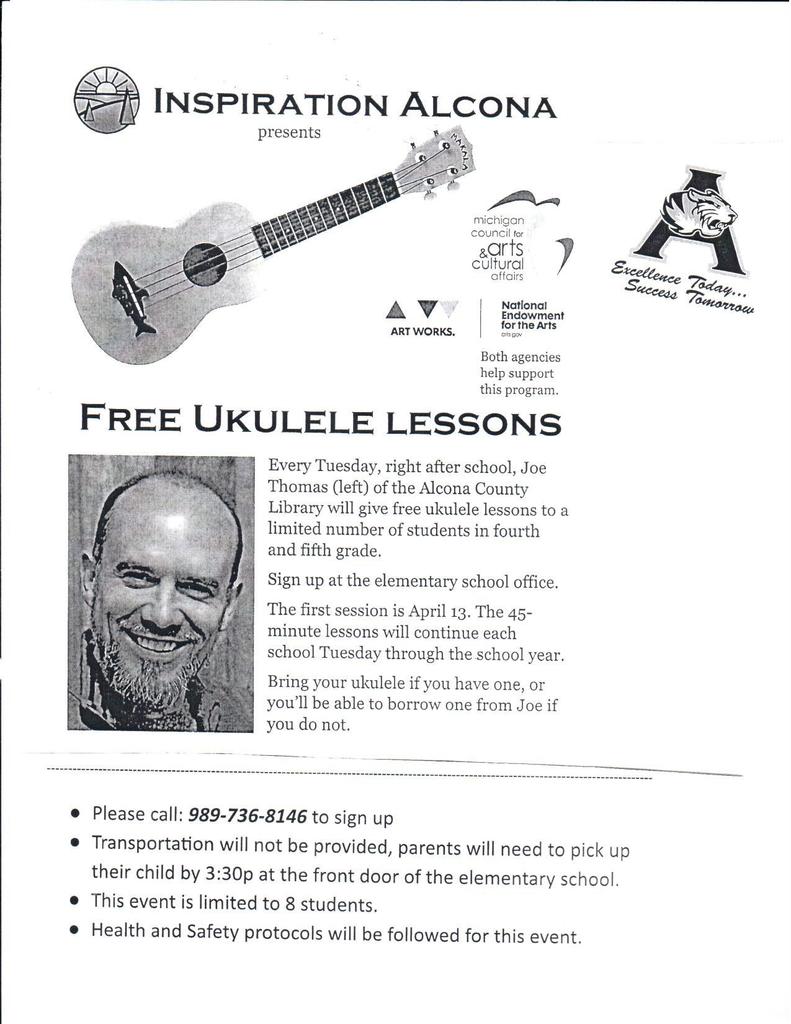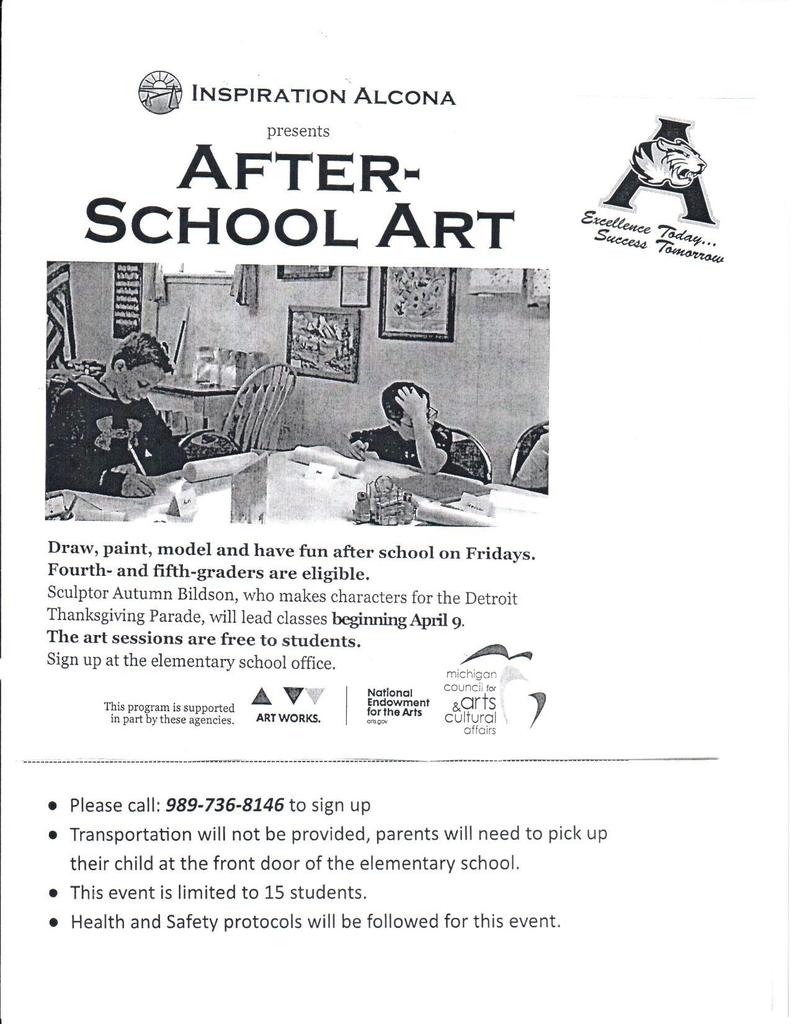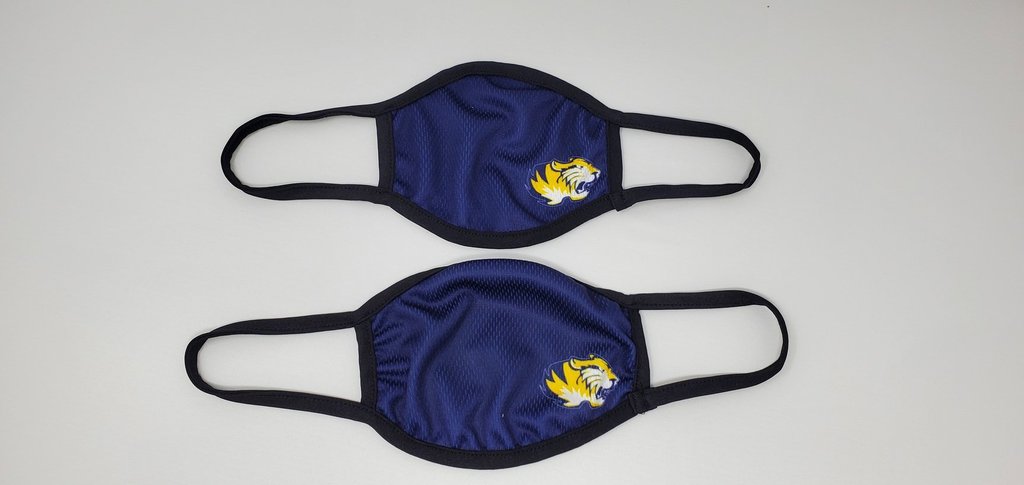 Please see the link below for notification on new confirmed positive cases of COVID-19. shorturl.at/kCS03
AAACU is hiring at the Tiger Branch located at Alcona Community Schools. Current Alcona High School 10th and 11th grade students are eligible to apply. Applications are due April 30. Apply online by visiting aaacu.com, scroll to the bottom and click the view careers button. Apply today!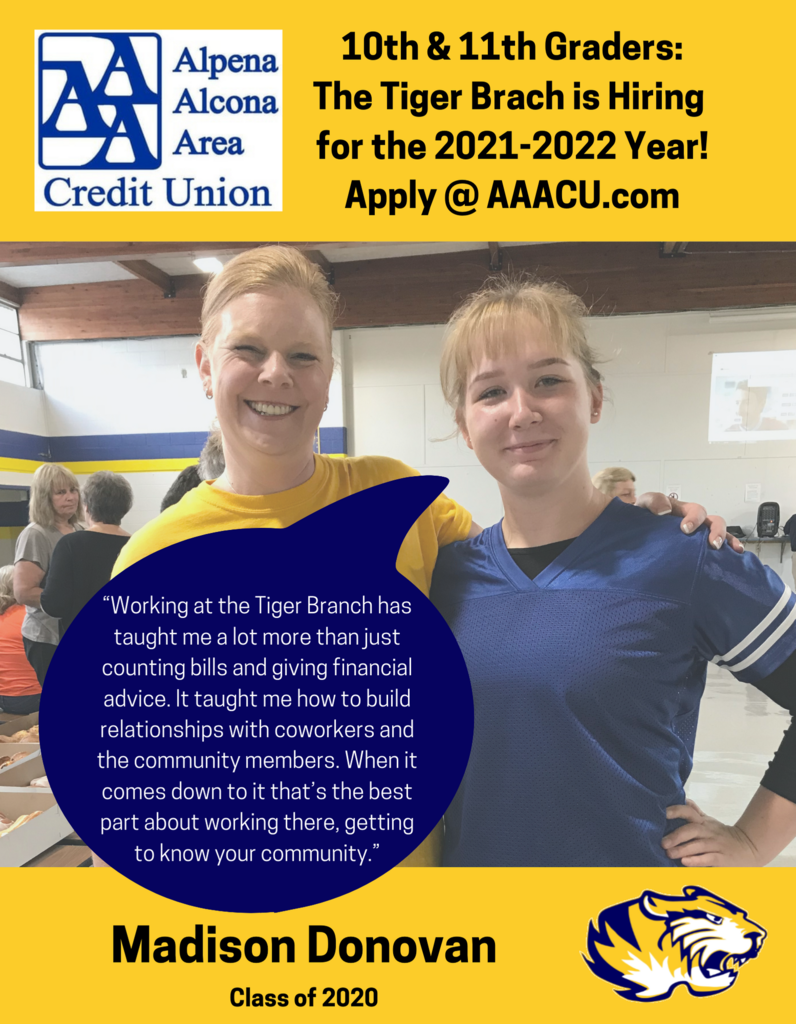 We have a free online student meal "GRAB & GO" today, Monday, April 5 in the MS parking lot from 4pm-6pm. Meals are available for all children age 18 and younger who are working from home.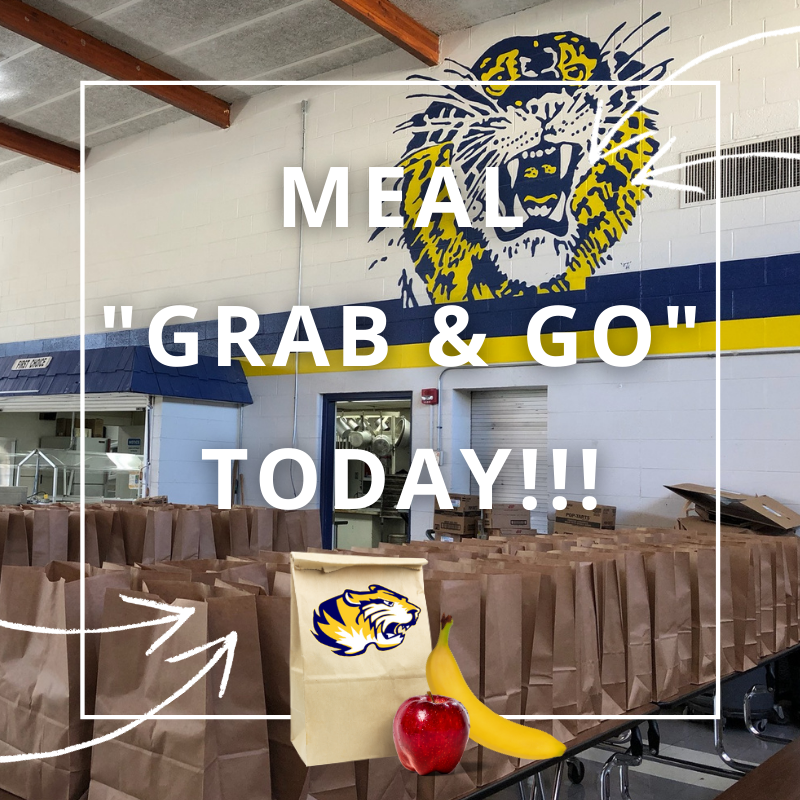 Our next online student meal "Grab & Go" is tomorrow, Monday, April 5 from 4pm-6pm in the Middle School parking lot. Meals are free and available for all students age 18 and younger working from home.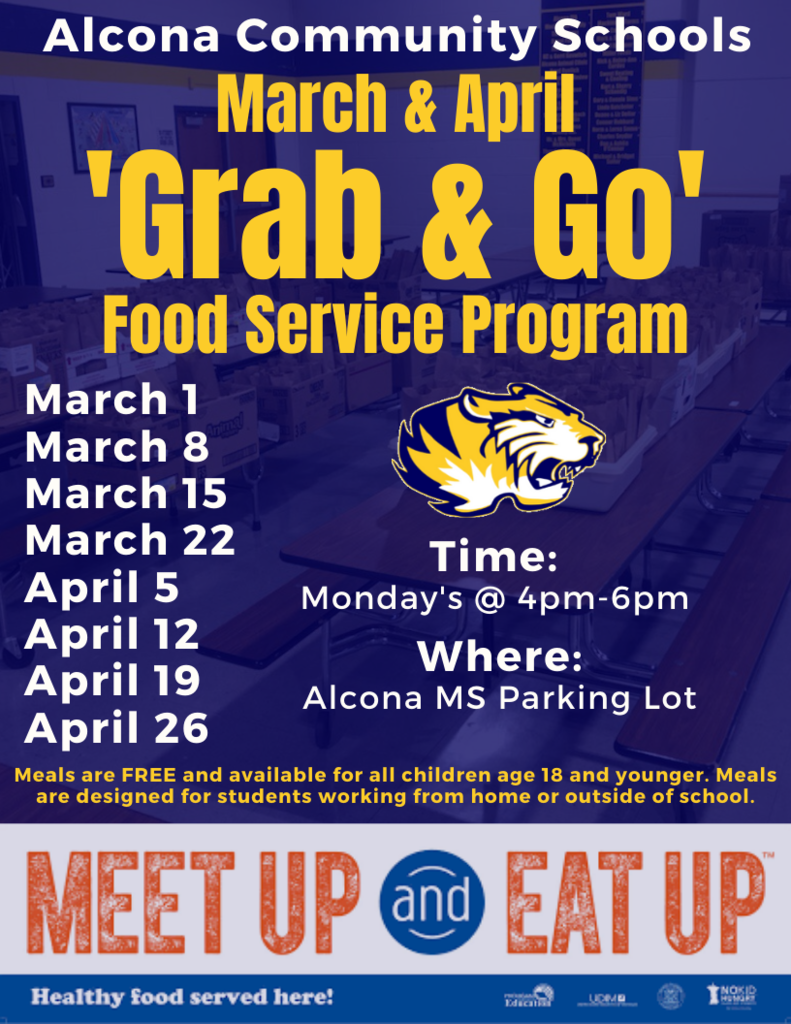 There is a free COVID-19 rapid testing opportunity TODAY, Sunday, April 4 from 12pm-6pm at Alcona Community Schools auditorium parking lot. Testing is for all students, staff, and community members interested.