The AJHS middle school movie night scheduled for June 3 has been cancelled. Instead the AJHS will be giving ice cream to all middle school students during lunch. We appreciate your understanding and hope to hold a movie night next school year. If you have any questions please reach out to Mrs. Cordes, AJHS Advisor at
cordesh@alconaschools.net
or 989-736-8534 x 4407.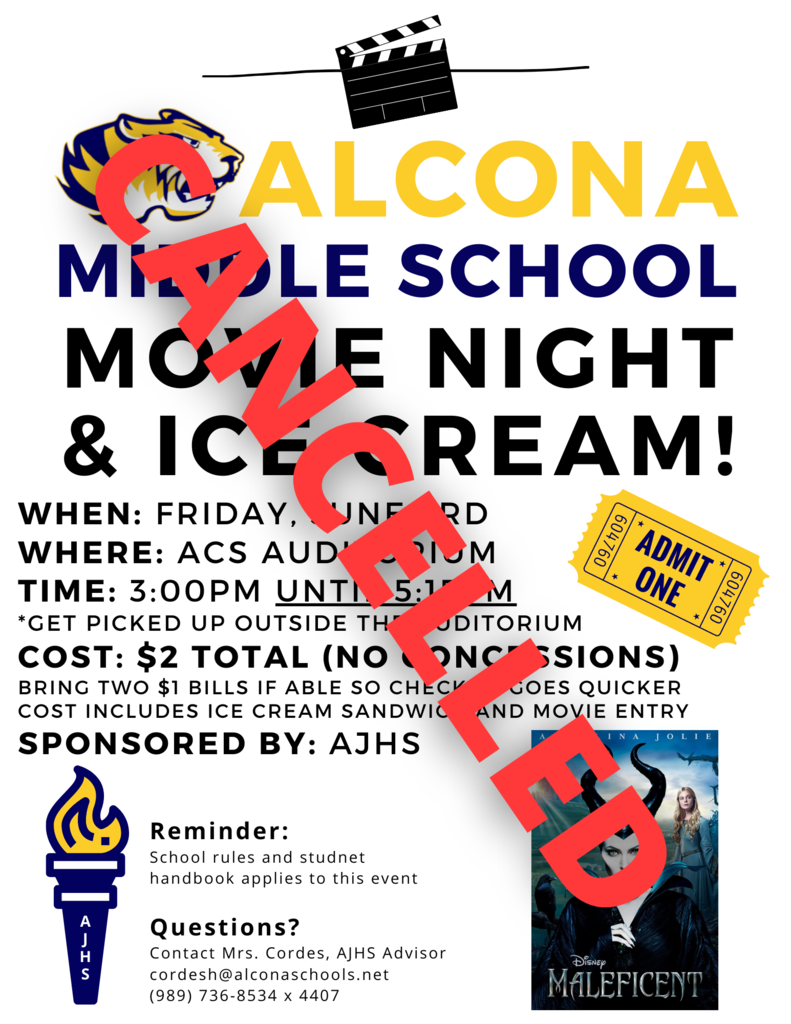 This group of Alcona Middle School Track athletes are heading to Shepard to compete at MegaStar today! Congratulations for qualifying and good luck to all of them!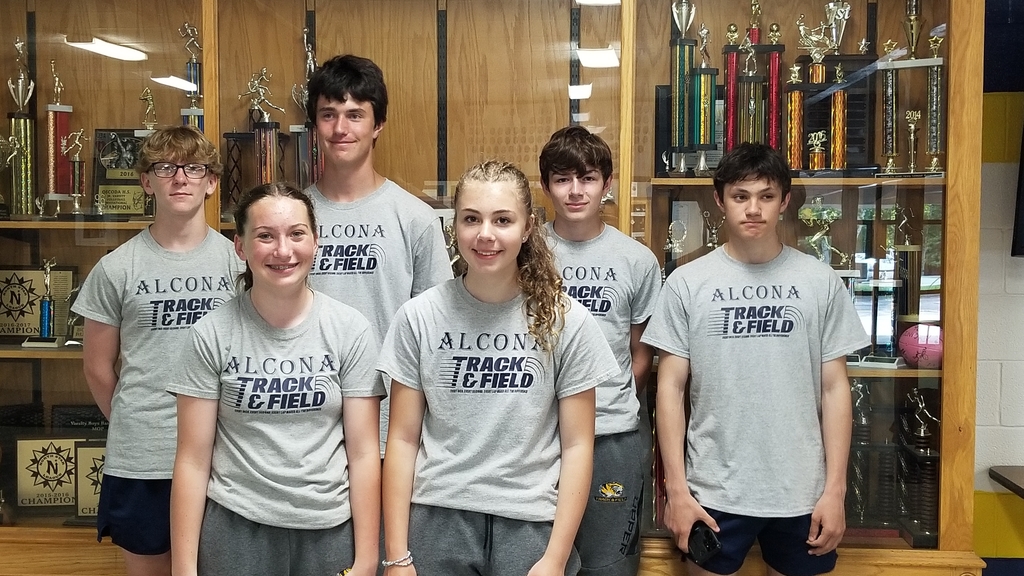 Tomorrow is the day for the Alcona Athletic Walk-a-Thon! I hope to see some of you out there! Lets keep those donations rolling in for your athletes! June 1, 9-3 on the track

On May 31st Alcona Schools will begin the day on a delayed start. The elementary will begin at 9:45 and middle/high at 9:35. The delayed start is a 90 minute delay from normal bus pick-up times.

Alcona will host The Alpena News Honor Roll Meet Tuesday, May 31! This meet represents the best of the best in our area! Please let me know if you are willing to help! Thank you! Contact Joy Bullis at
bullisj@alconaschools.net
Students in grades 5th-12th for the upcoming school year are invited to attend the Alcona Tigers Basketball Camp June 13-16. Registration forms are due by June 3rd. A PDF registration form is available at: bit.ly/3LyqbIQ #GoTigers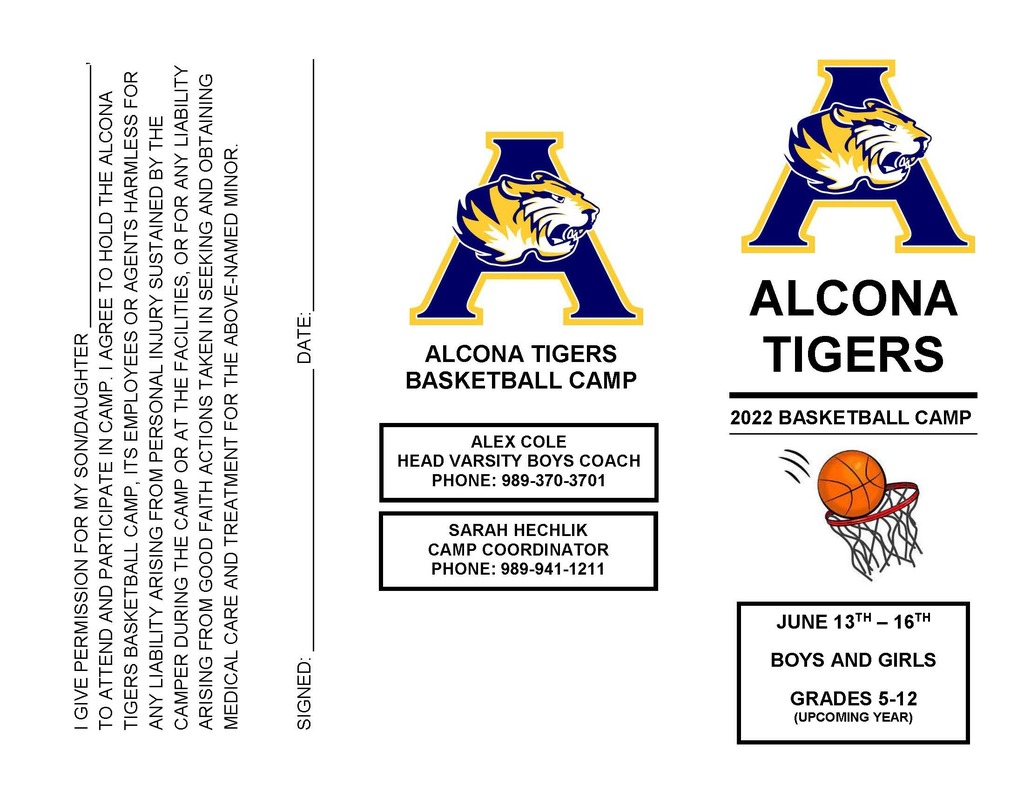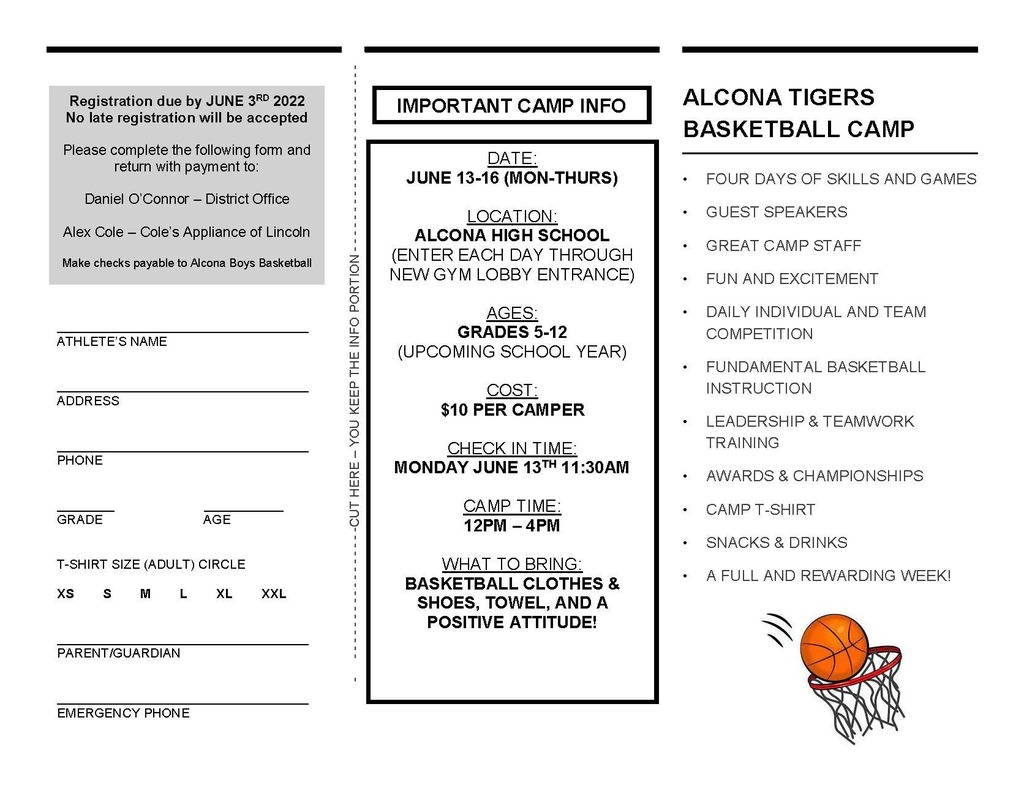 Congratulations to the class of 2022 and 2034! This morning we hosted our Kindergarten graduation and tonight our seniors will be graduating. To celebrate the class of 2022 and 2034 we hosted a school wide MCAN Decision Day. Decision Day is a time to recognize the accomplishments of our kindergarten students, Early College students, and graduating seniors. At Decision Day seniors shared their plans after graduation, such as going to college/university/trade school, completing the Early College Program, enlisting in the military, traveling, taking a gap year, or entering the workforce. Additionally, kindergartners shared what they want their future career to be when they grow up. Some of the future careers for the class of 2034 are a teacher, ballerina, cop, firefighter, vampire, everything, YouTuber, president, a grown up, video game player, FBI agent, and more. Congratulations, Kindergartners and Seniors! #TigerPride #DecisionDay #Classof2022 #Classof2034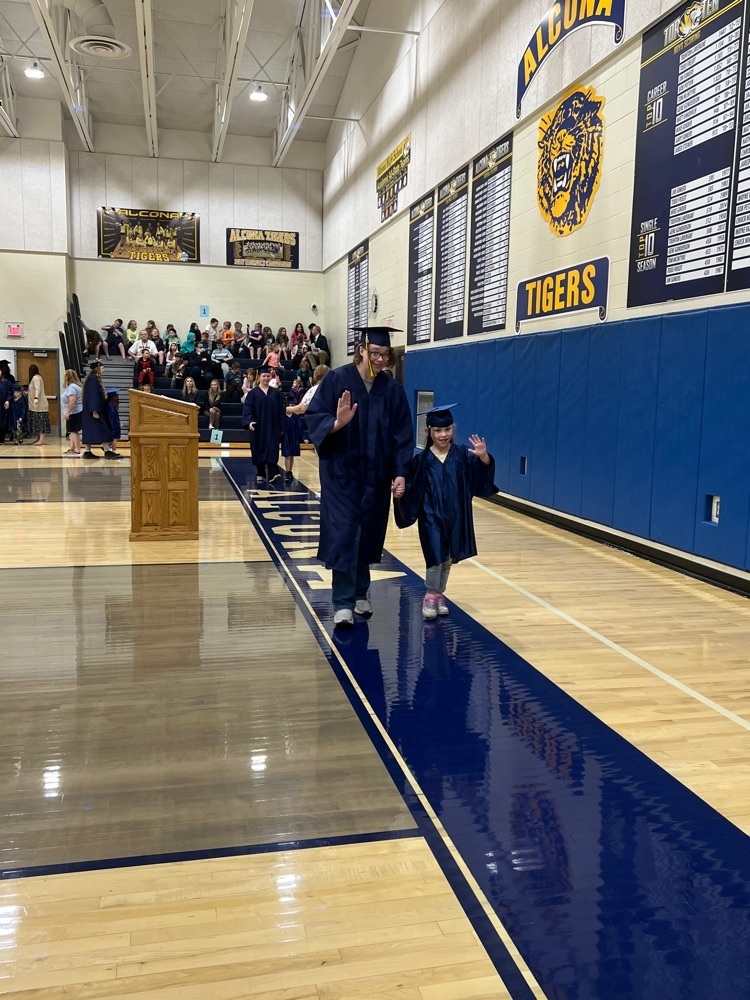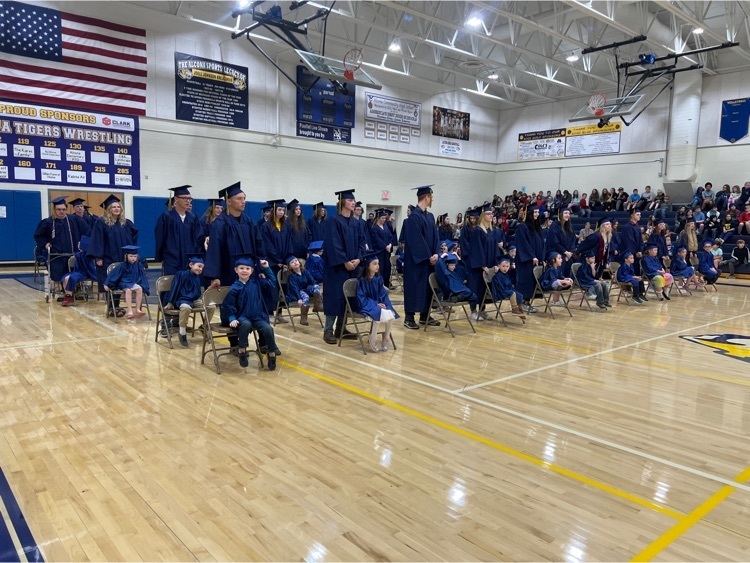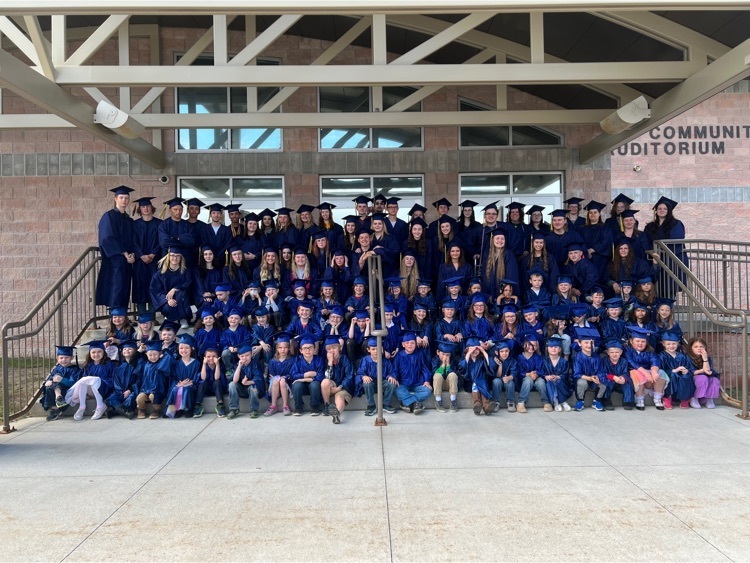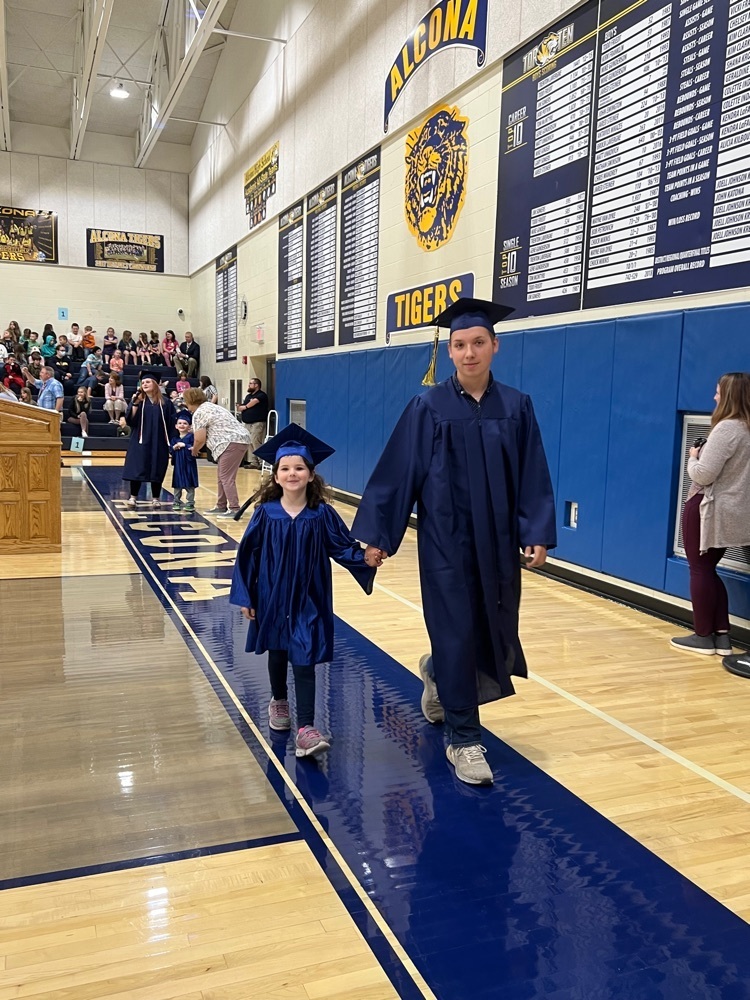 Ms. Misaik's 2nd grade class is getting ready to finalize their bird habitat improvement project at the MiDNR Harrisville boat launch site. They chose to build bird houses. Thank you Ausable Valley Audubon for donating bird houses!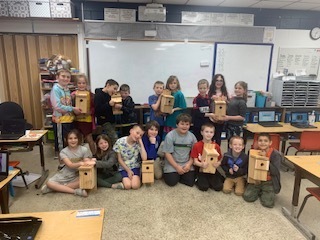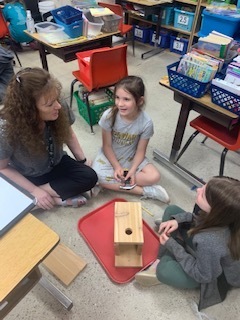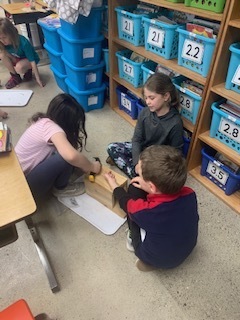 1st grade students are wrapping up their embryology project and sending their chicks on to their new homes today. These students have spent time learning about life cycles, comparing adult and young animals, and connecting with the care of our feathered friends through science, literature and art. Thank you to Michigan State University Extension 4H and Lyn Kerezsi for their continued support of this project.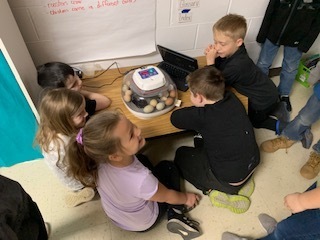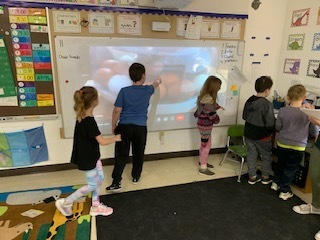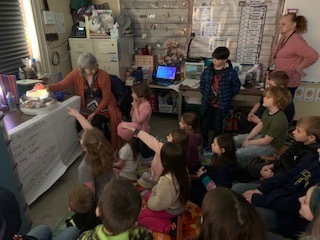 Congratulations to both the Boys and Girls Track Teams for NorthStar League Big Dipper Conference Championships tonight! What a great performance! You should all be very very proud. Go Tigers!!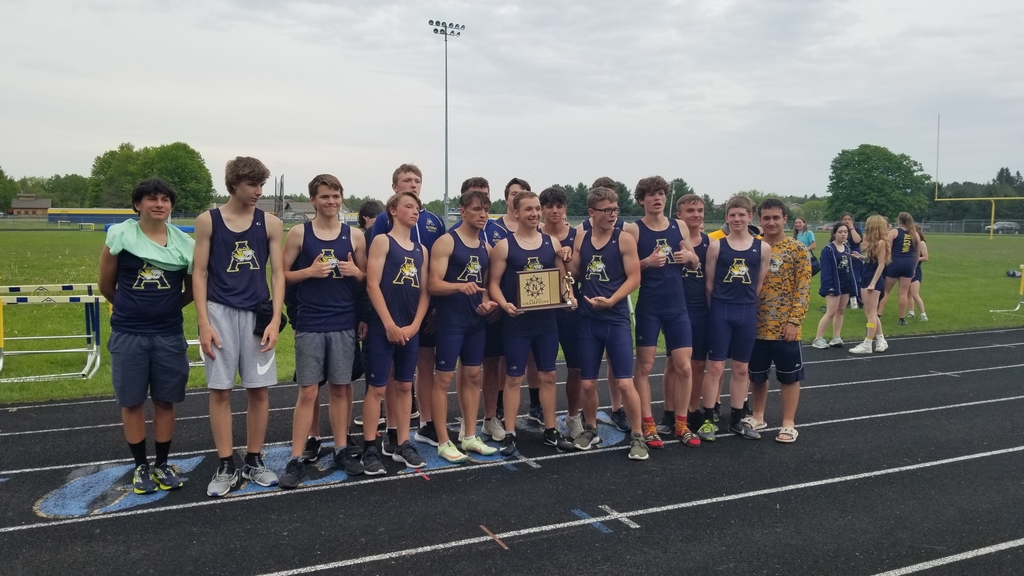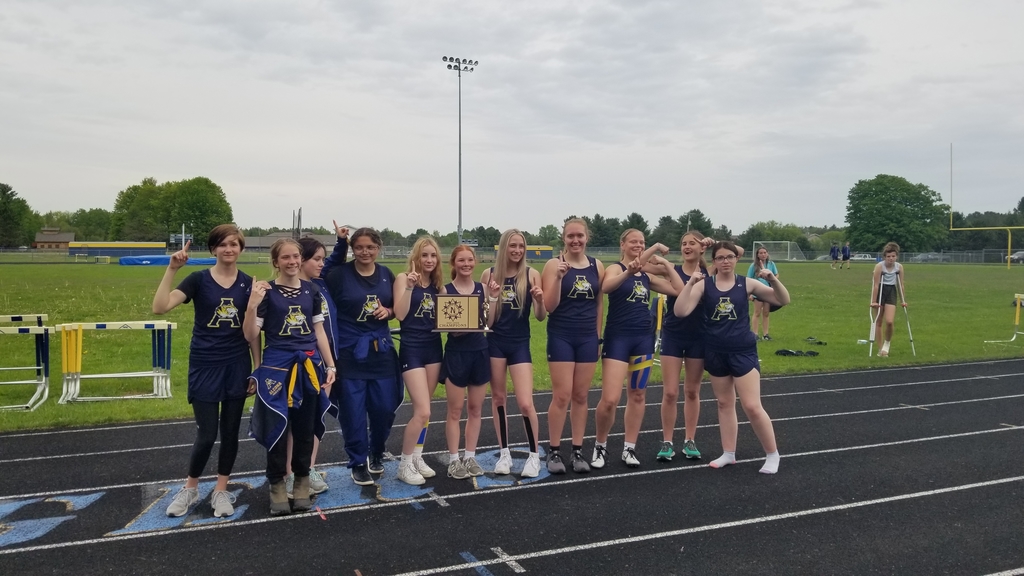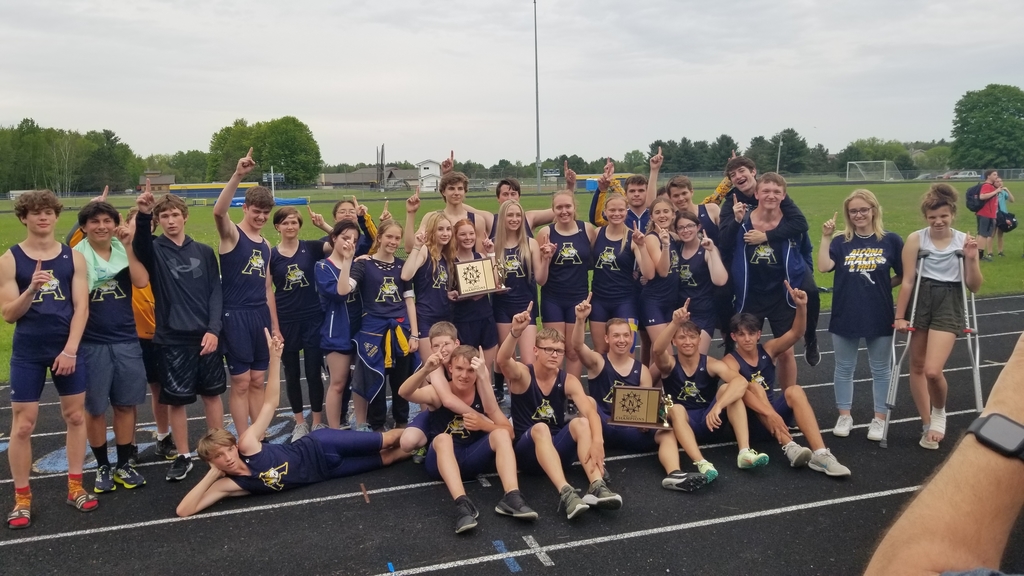 Busy week of athletics! BIG week of athletics! If you see a student-athlete around, please wish them good luck as they fine-tune their skills for end-of-season competitions! GO TIGERS!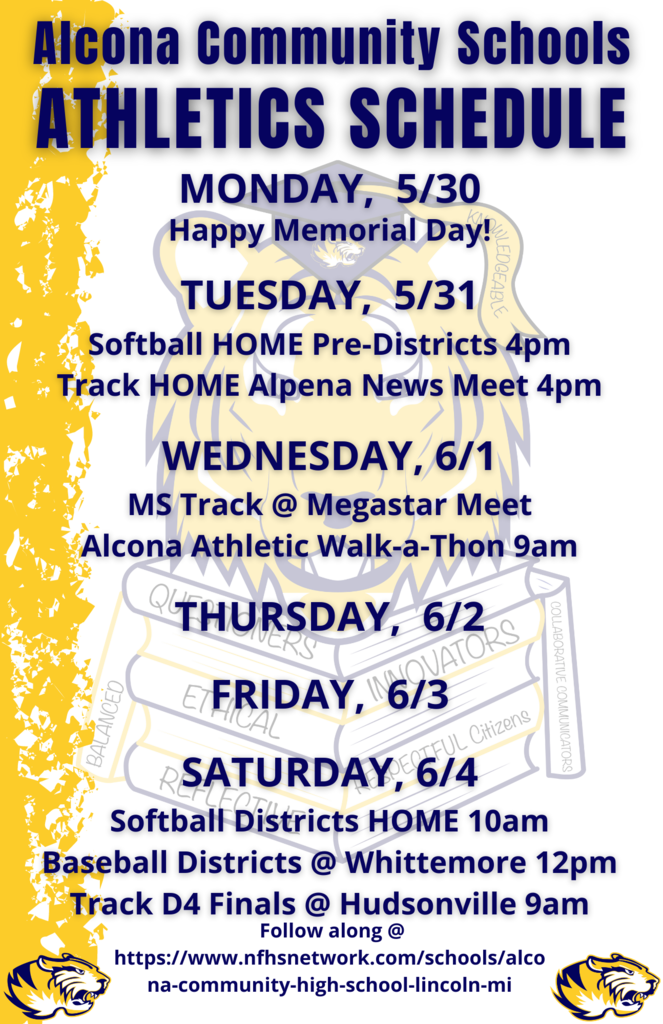 The 2021-2022 Yearbooks have arrived! Preordered books will be passed out during lunches and at senior breakfast tomorrow. We do have about 20 extra books to sell. If a senior would like to purchase and did not preorder bring $30 cash or check to breakfast tomorrow.

ATTENTION: Baseball and Softball games will be home at 1:00pm today!
6th graders had a blast today at the Onaway Museum and MiCareerQuest Northeast MI! Onaway Museum members gave a presentation about the history of the city and a tour of their museum. Afterwards students dived into hands-on career activities at the MiCareerQuest; ranging from heavy equipment, manufacturing, technology, healthcare, law enforcement, and more. The purpose of the MiCareerQuest is to create awareness of the rewarding jobs available in northeast Michigan, many of which have a talent shortage today and are anticipated to have even greater demand in the future.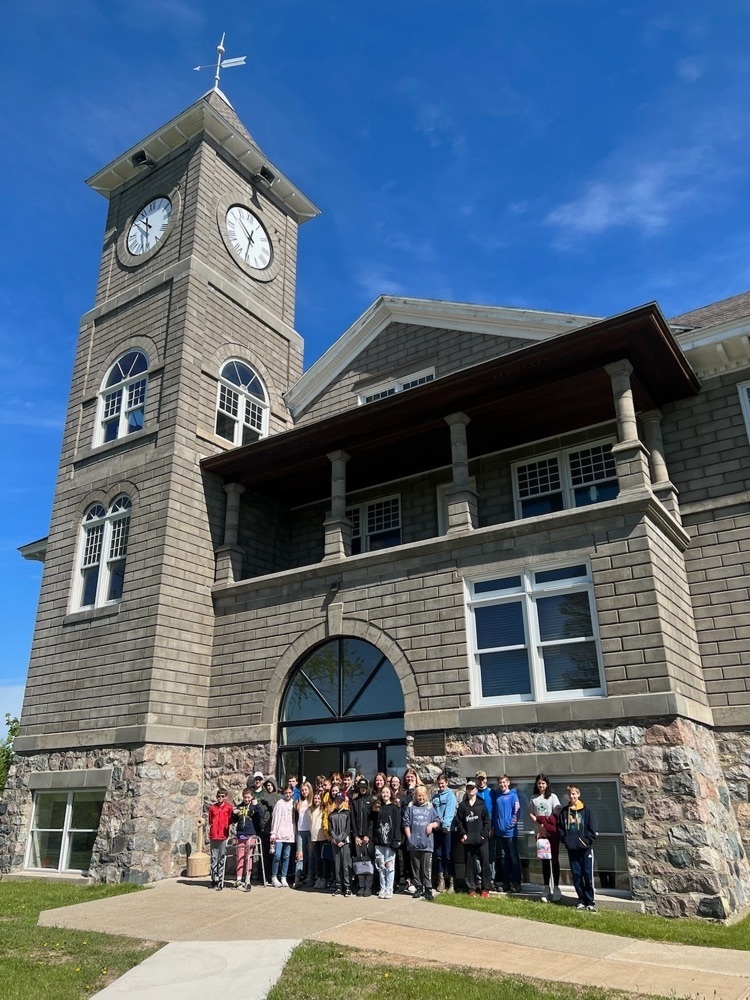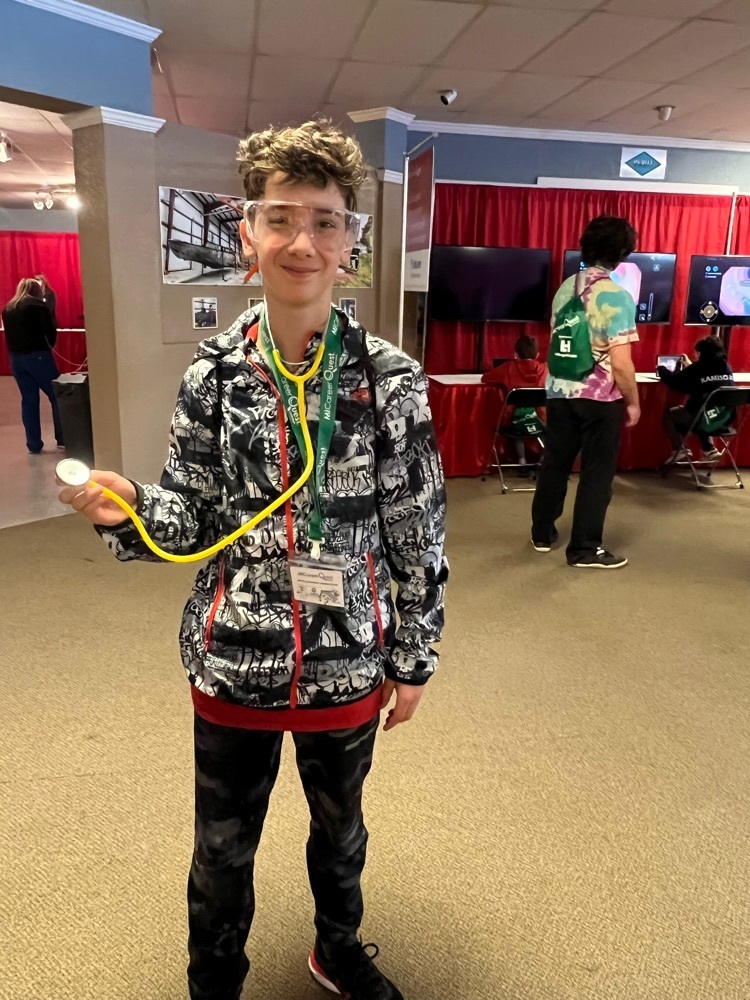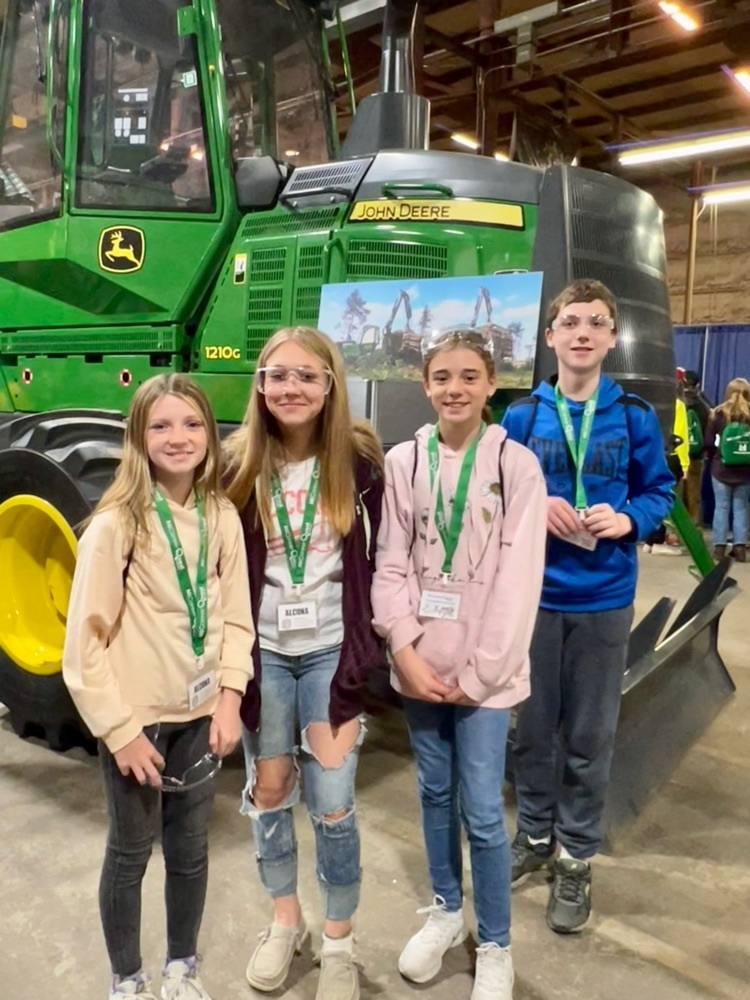 Join the English III Classes for our School Property Open House on June 7th from 4-6:30pm. Students will showcase their stewardship projects on the newly purchased school property. What to Expect: Learn how to play disc golf See our new pond layout Relax on our new reading hammocks Walk the 2 mile trail See the new trail signs Learn about our new waste management plans. Be sure to wear comfortable shoes. And more!!! Tours will begin at 4pm at the Sugar Shack behind Alcona Elementary. Stop by and check it out!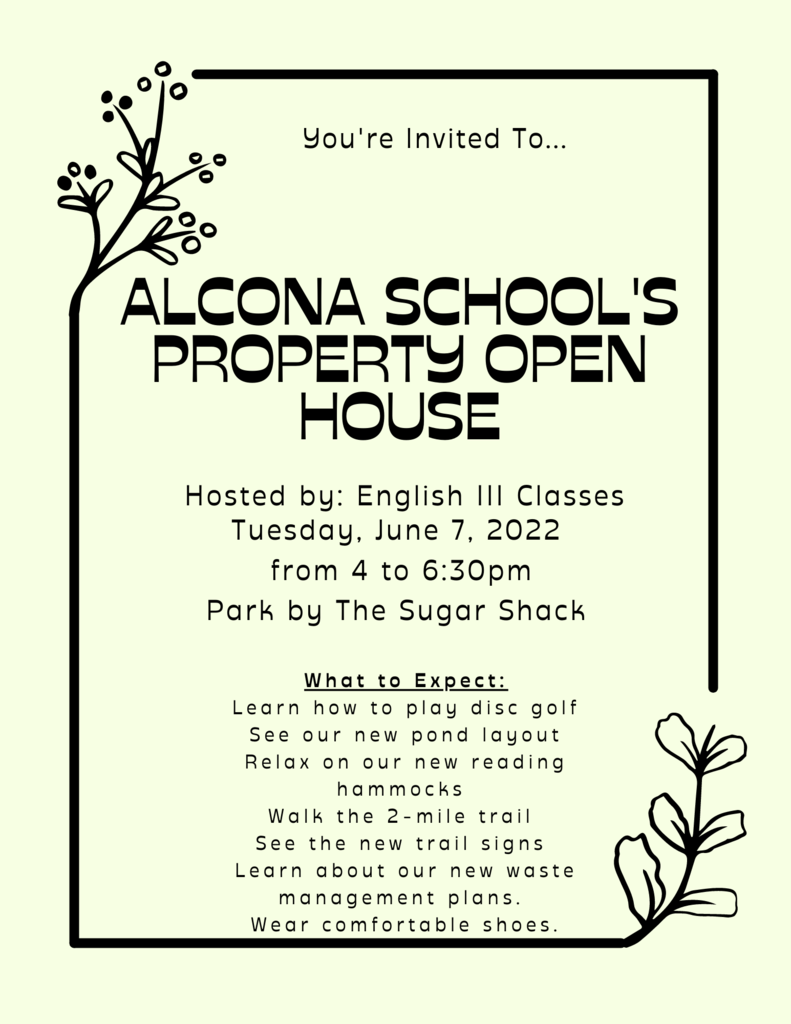 Quick reminder for students who are enrolled in an ACC class for the first time next fall: ACC orientation was moved up to Friday, May 27th at 8am in room 411. If at all possible, please be there! ACC's Mr. Kollien & Mr. Lightner will be leading the orientation.
Students in grades 5th-12th for the upcoming school year are invited to attend the Alcona Tigers Basketball Camp June 13-16. Registration forms are due by June 3rd. A PDF registration form is available at: bit.ly/3LyqbIQ #GoTigers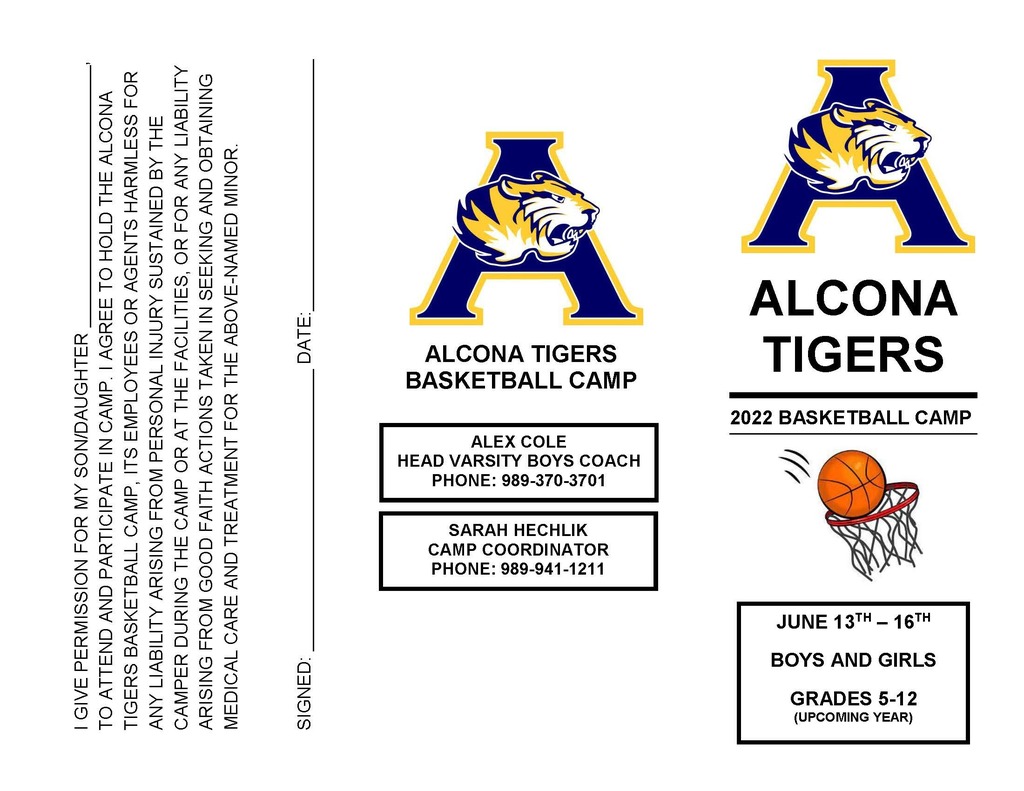 Seniors!! Don't forget that tomorrow is the last day of finals. Your finals/final projects need to be DONE by 3pm tomorrow. Make sure your projects for Mr. E are in asap in the morning!