Join our team! Applications are due today by 12pm. #TigerPride #JoinOurTeam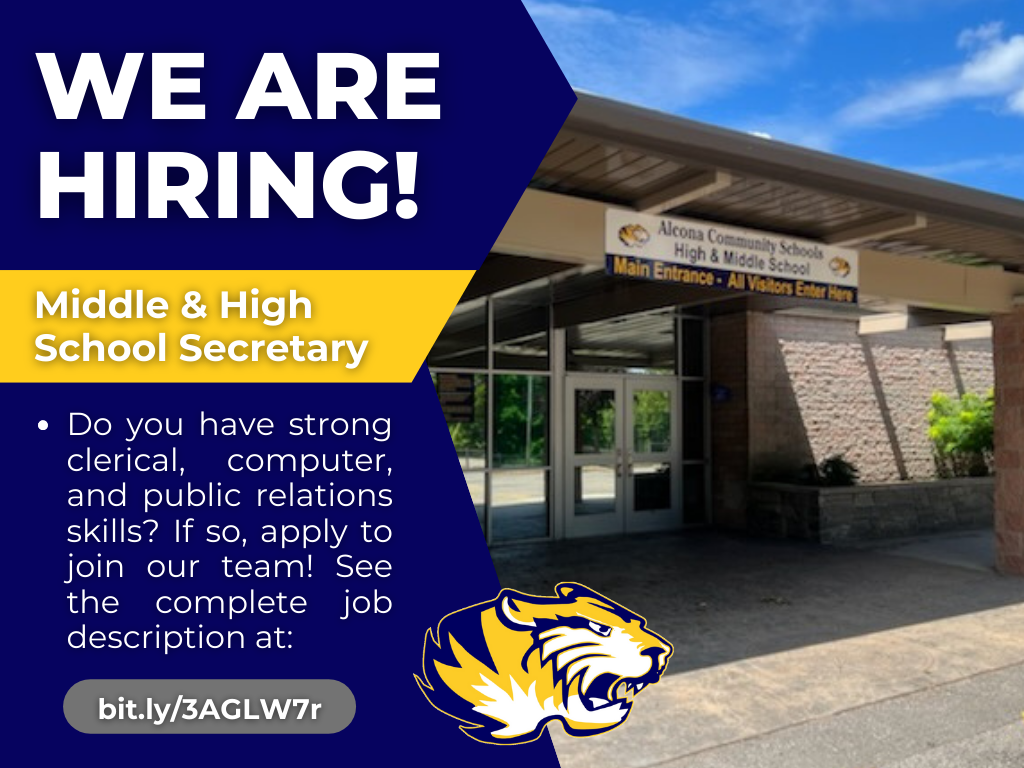 We're hiring for a Middle/High School Secretary. See the complete job description and apply online at bit.ly/3AGLW7r by July 18 at 12pm. #TigerPride #JoinOurTeam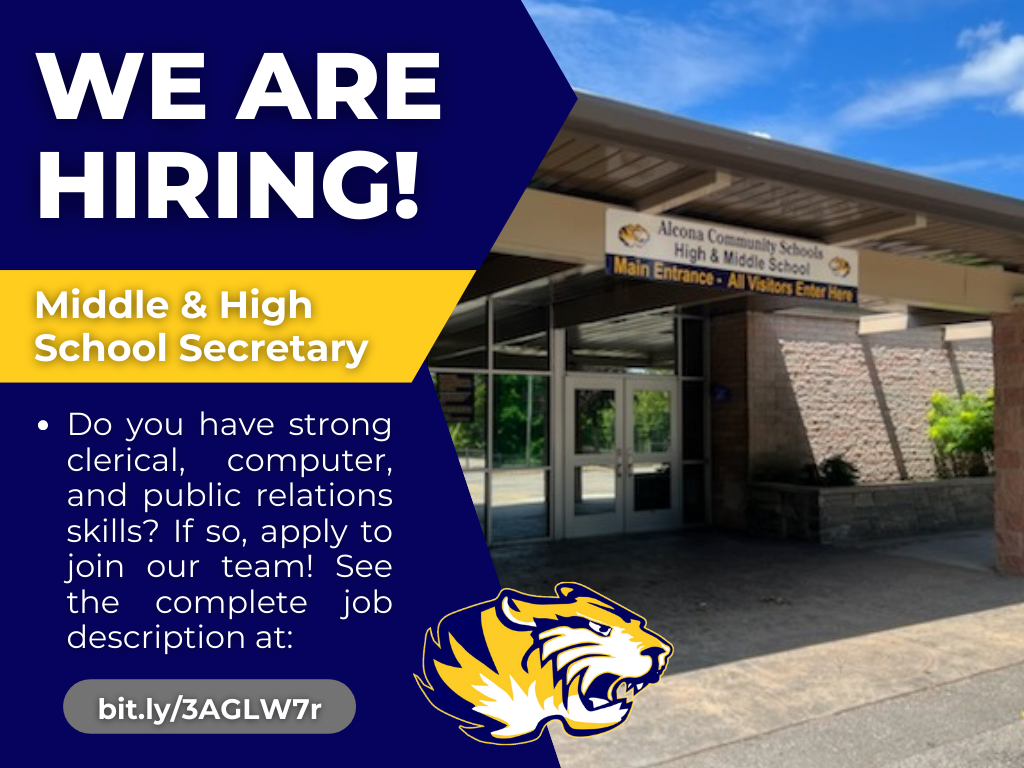 All ACS families qualify for The Emergency Food Assistance Program since all our students receive free lunch. For more information scan the QR code or visit bit.ly/3Iy52ih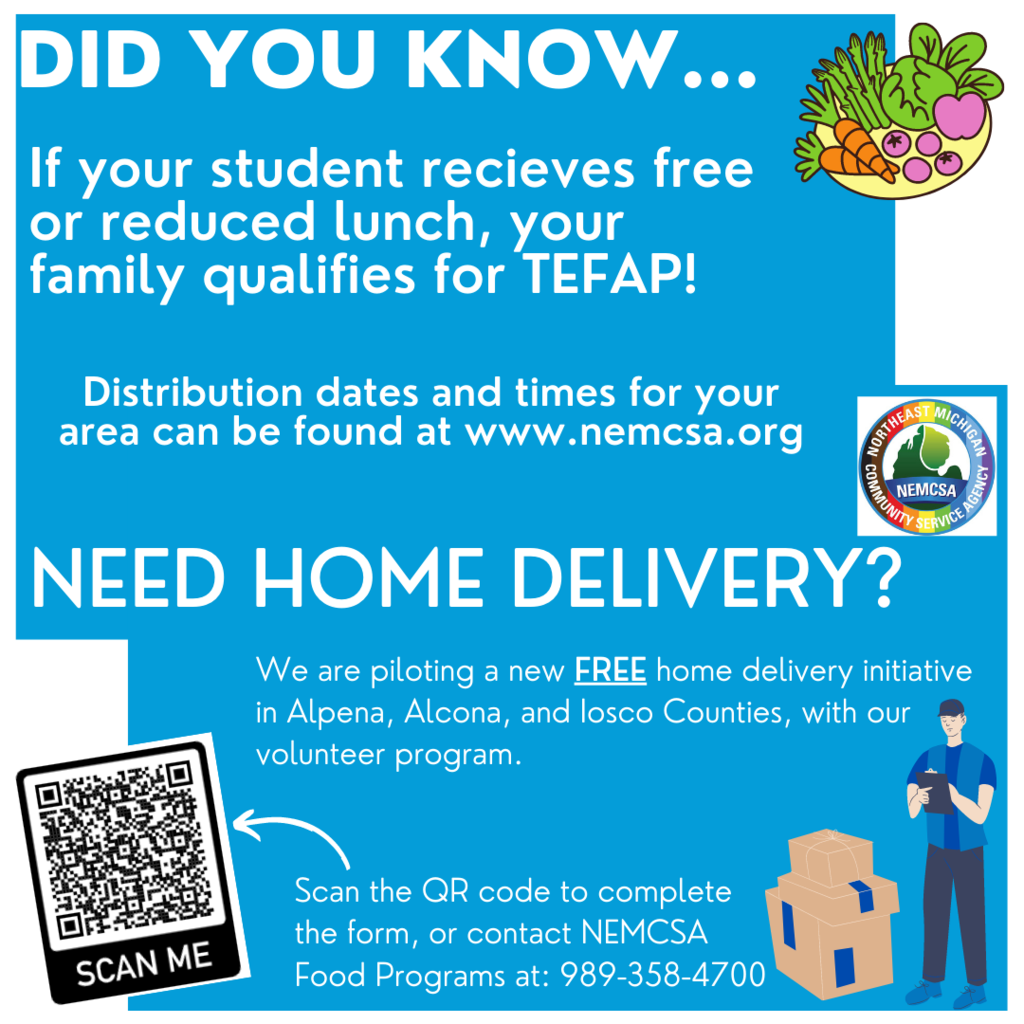 ACS is hiring for a Middle/High School Secretary. Strong clerical, computer skills, and the ability to work with the public are essential. See the complete job description and apply at bit.ly/3AGLW7r Apply online by July 18 at 12pm. #TigerPride #JoinOurTeam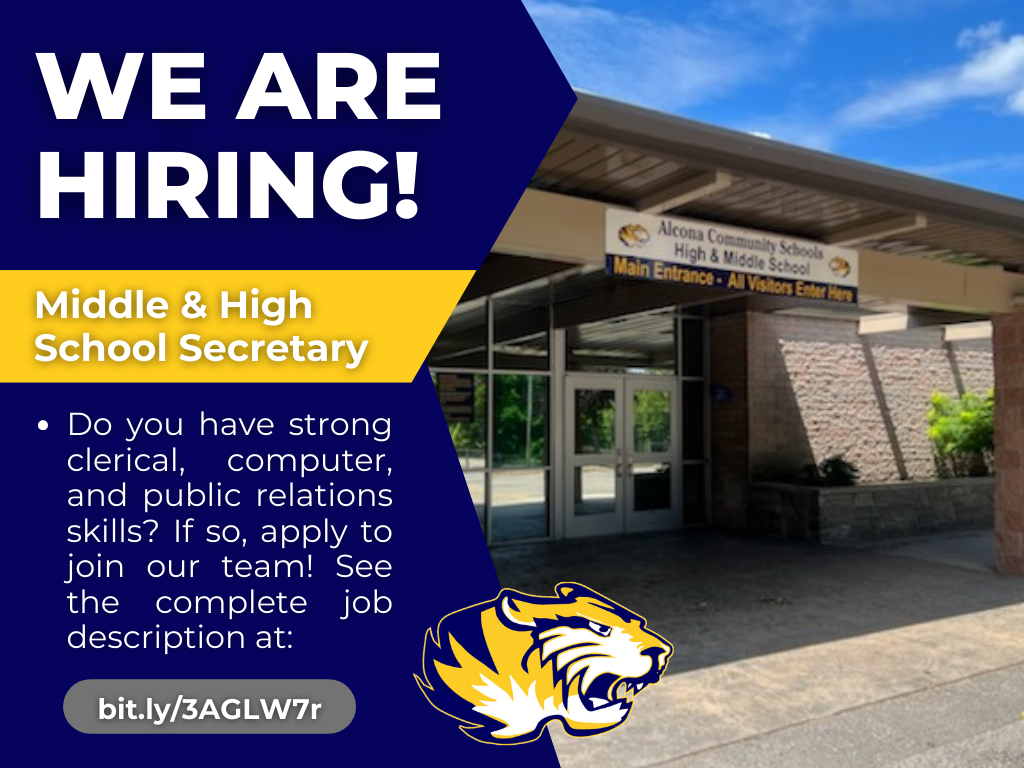 Students in 1st-12th grade are invited to complete the ACCOA survey for the Alcona ICAN project that is working to design and construct a Community Center in Alcona County. The survey will ensure youth have a voice in the types of programs, services, resources, and opportunities available through the future Community Center. Parents/guardians can help their students complete the survey at
https://umich.qualtrics.com/jfe/form/SV_0eqNAgugeHdowqq
This is not a school facilitated survey.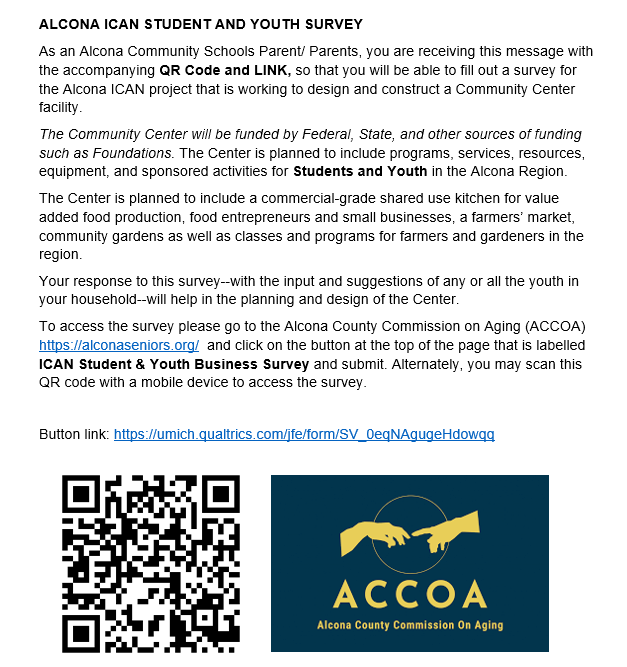 4 weeks until the kick-off of Fall Sports on August 8! Make sure to have your physical on file with the athletic office! You can get a physical form from the high school office OR email
bullisj@alconaschools.net
!
ACS is hiring for a Middle/High School Secretary. Strong clerical, computer skills, and the ability to work with the public are essential. See the complete job description and apply at bit.ly/3AGLW7r Apply online by July 18 at 12pm. #TigerPride #JoinOurTeam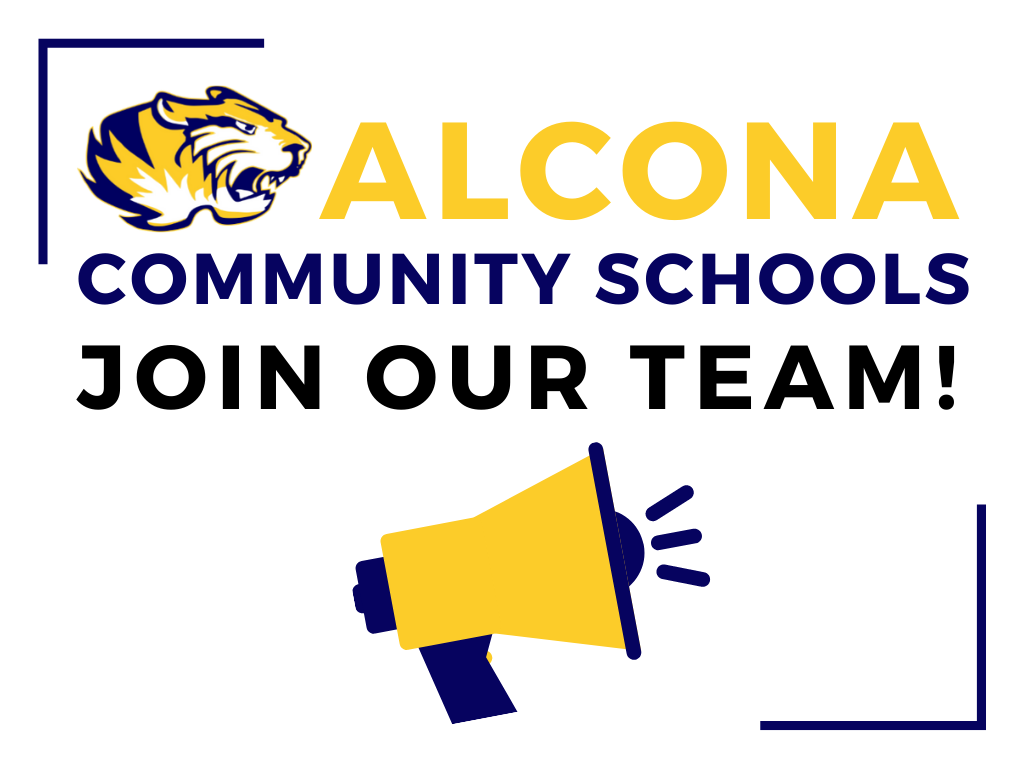 Students in 1st-12th grade are invited to complete the ACCOA survey for the Alcona ICAN project that is working to design and construct a Community Center in Alcona County. The survey will ensure youth have a voice in the types of programs, services, resources, and opportunities available through the future Community Center. Parents/guardians can help their students complete the survey at
https://umich.qualtrics.com/jfe/form/SV_0eqNAgugeHdowqq
This is not a school facilitated survey.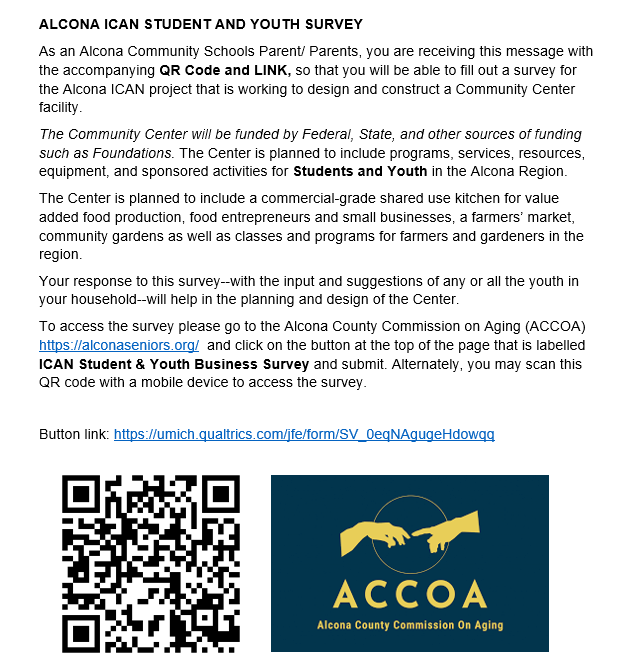 The garden club cleaned the memorial pollinator garden today and added some new native plants. They even picked a few ripe cucumbers out of the other gardens to take home. Thanks students stewards!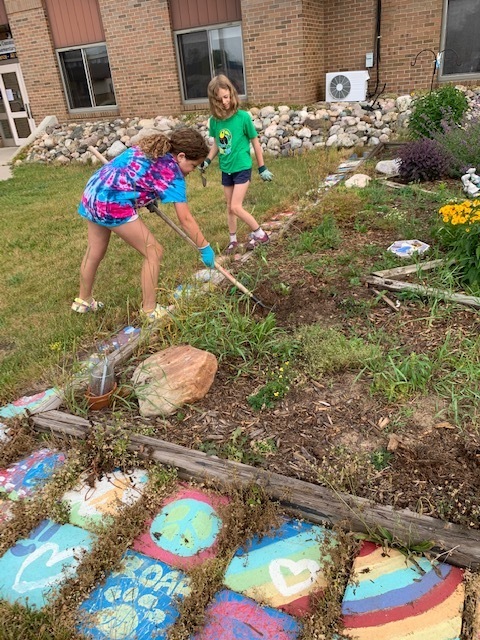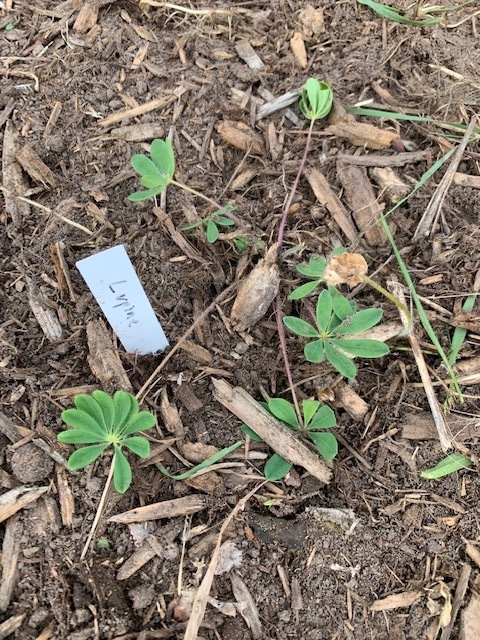 Only 6 weeks till the first day of Fall Sports! Schedule your Sports Physical NOW! High School Football, Volleyball, Soccer and Cross Country begin August 8! You MUST have a completed Sports Physical turned in to the HS office to practice! Email
bullisj@alconaschools.net
with questions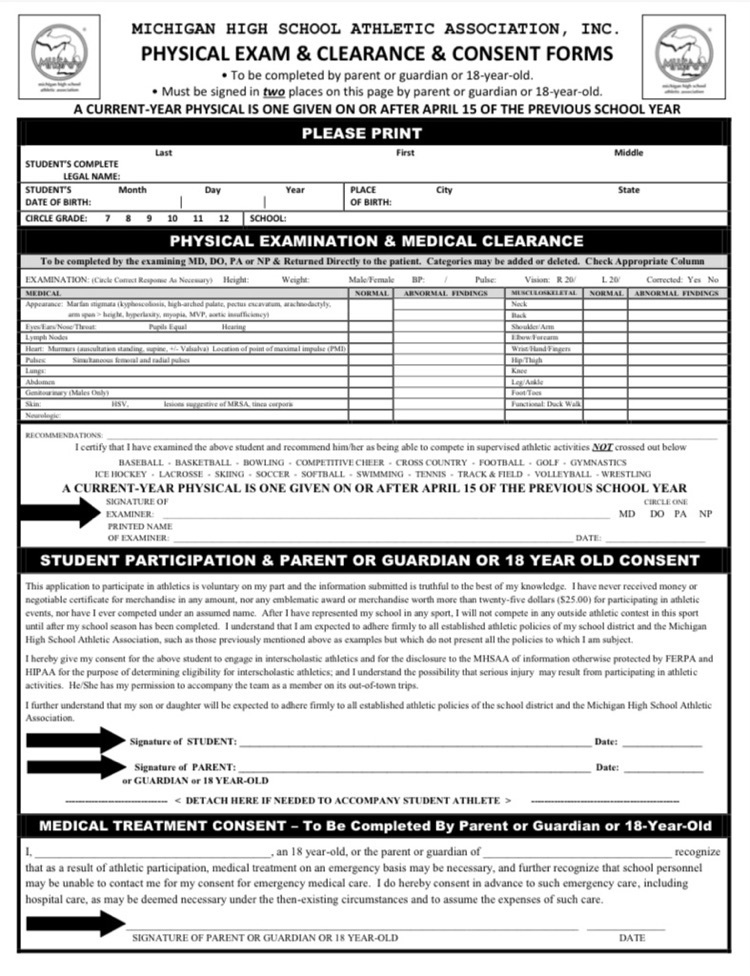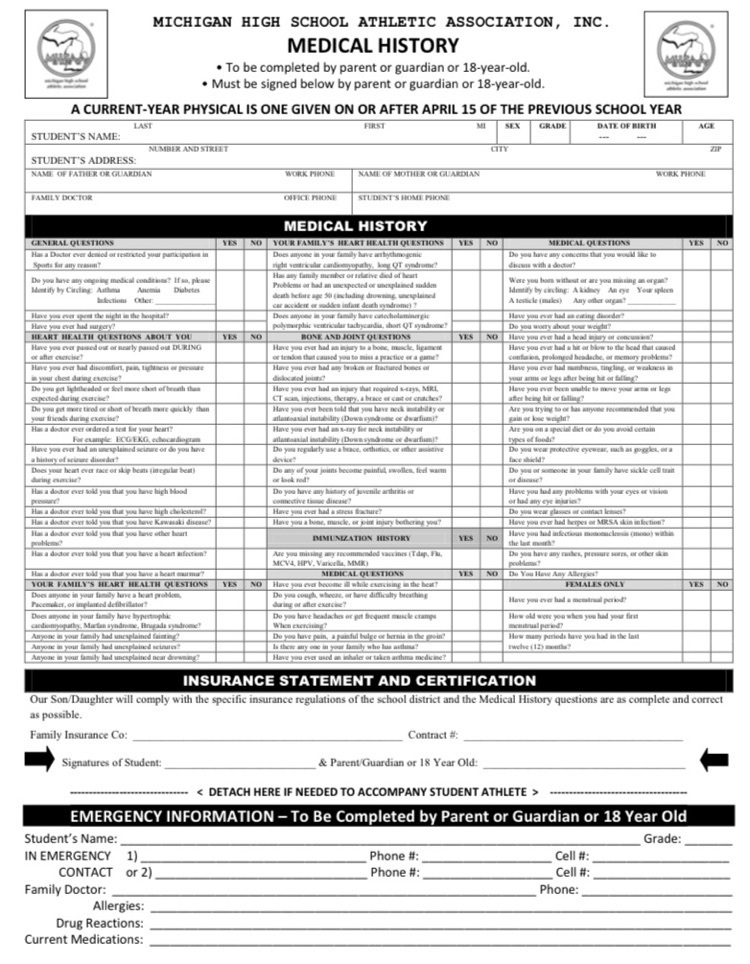 Through our school forest K-12 students are engaging in place-based education projects! 3rd graders have reengineered the property's water run-off holding area, including using math to solve for how deep to dig the basin. Check out an article from MASA about the stewardship projects ACS students are engaging in on our school forest at
http://gomasa.org/.../alcona-students-take-learning-outsid
Applications are due today! Apply at bit.ly/ACSjoinourteam #TigerPride #JoinOurTeam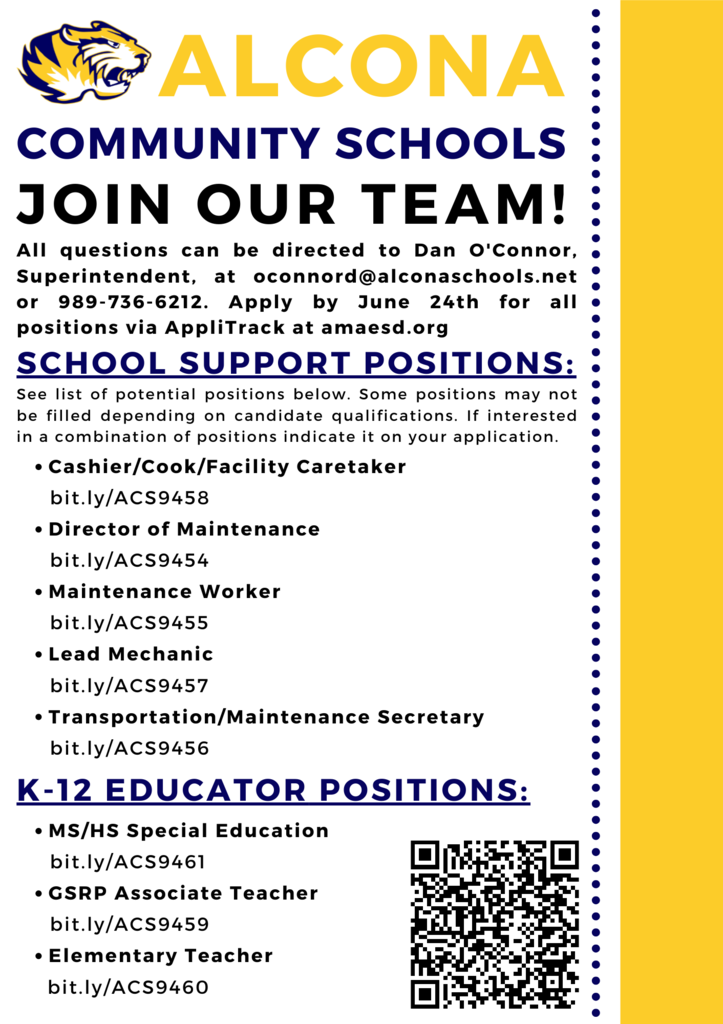 Join our Team! See our complete vacancy list and apply by tomorrow! bit.ly/ACSjoinourteam #TigerPride #JoinOurTeam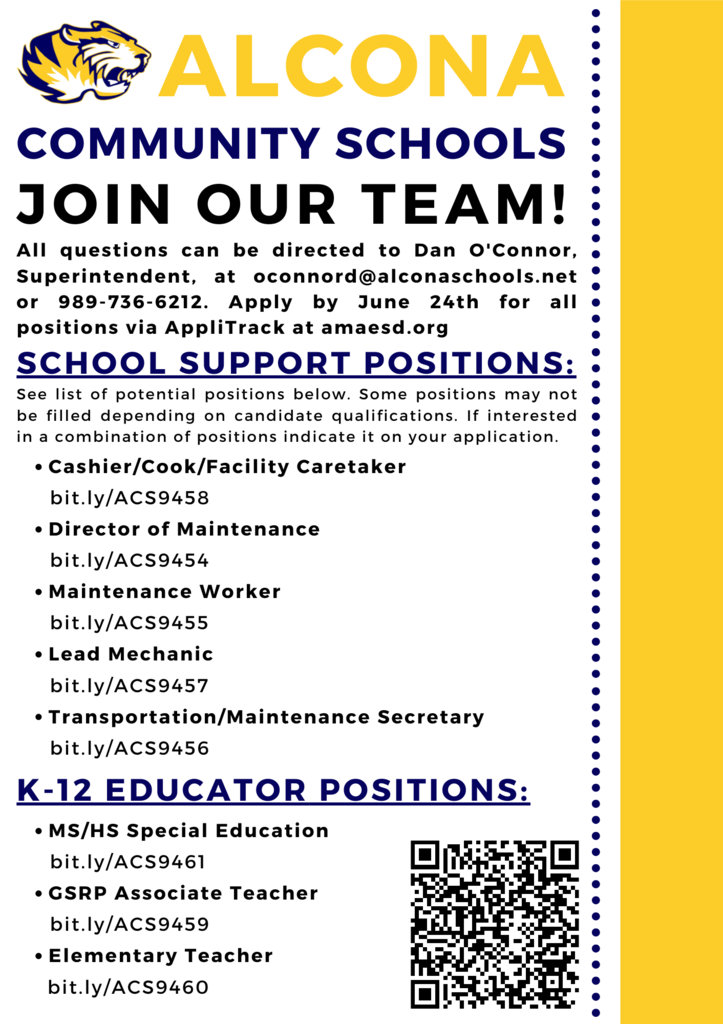 Alcona Students Take Learning Outside! MASA recently highlighted ACS for our district wide place-based education projects on our school forest. Our school forest project was one of only ten across the state of Michigan to receive a 2021 Education Excellence Award. Students, families, and community members are invited to explore our school forest and see firsthand the projects students have been working on. See the complete press release from MASA at
http://gomasa.org/2022/06/14/alcona-students-take-learning-outside/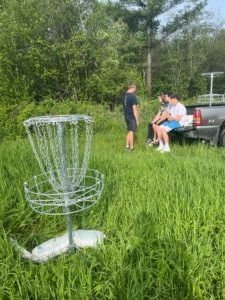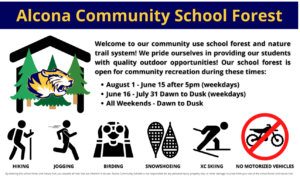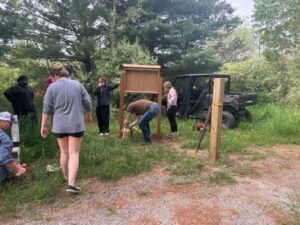 ACS is hiring for school support and K-12 educator positions! See our complete vacancy list and apply by scanning QR code or visiting: bit.ly/ACSjoinourteam #TigerPride #JoinOurTeam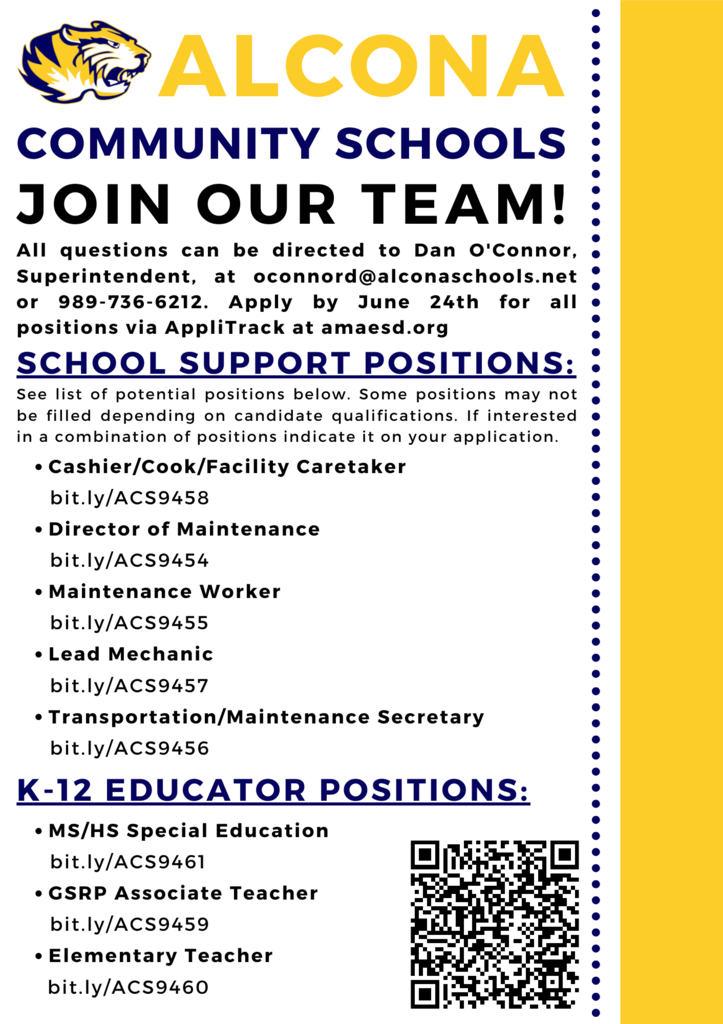 Join our Team! See our complete vacancy list and apply by scanning QR code or visiting: bit.ly/ACSjoinourteam #TigerPride #JoinOurTeam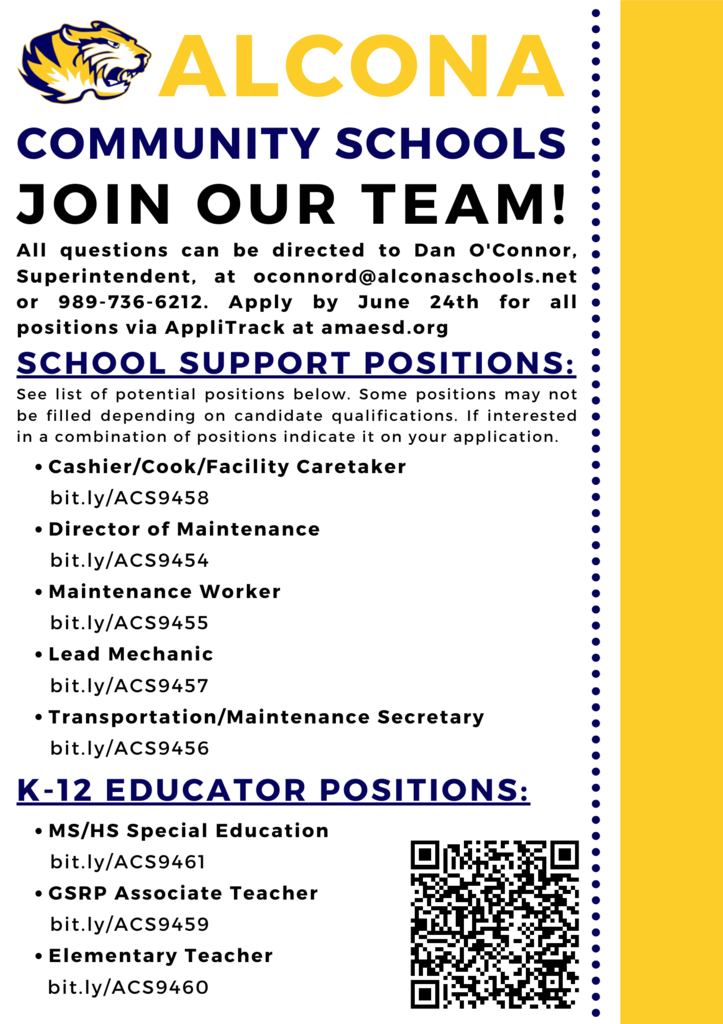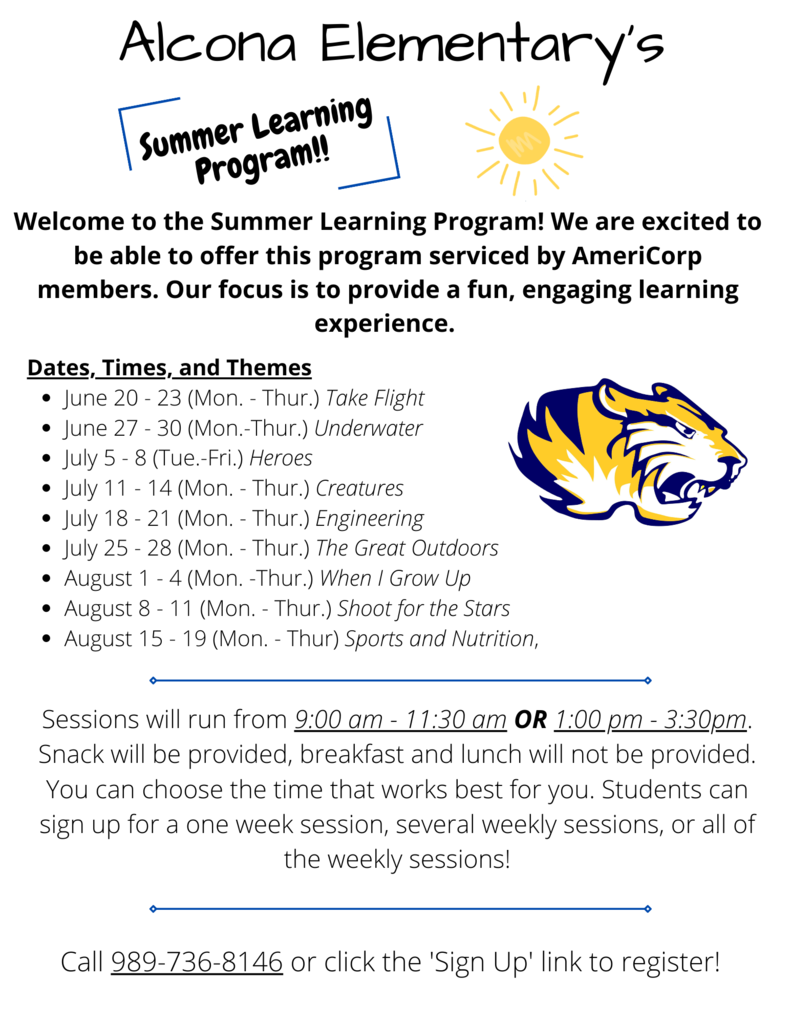 ACS is hiring for an Administrative Assistant, who will serve as the general line assistant and executive secretary to the Superintendent of Alcona Community Schools. See complete job description at bit.ly/ACS9464. Apply by submitting a letter of interest and resume to
postings@alconaschools.net
by June 17 at 3 pm. #TigerPride #JoinOurTeam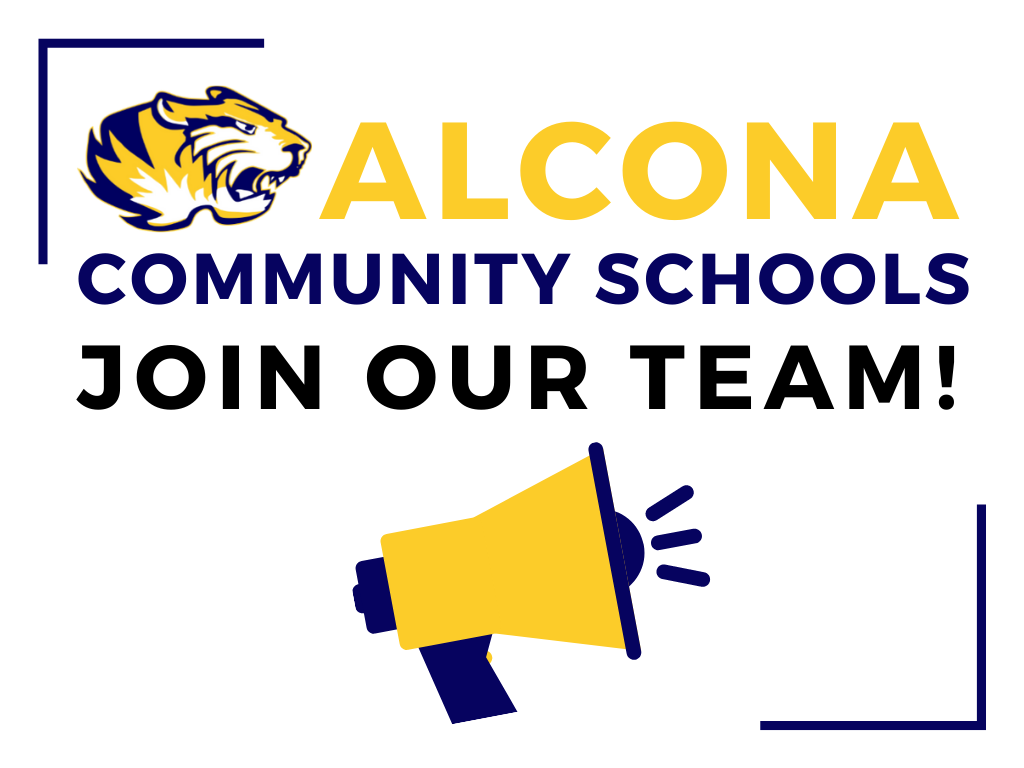 Reminder: ACS is in the development phase of our new strategic plan! Your help is needed to guide our district. To provide input on our new strategic plan complete the following survey: bit.ly/3muOfT7 #TigerPride